Regarder maintenant
EN PROMO
Regarder maintenant
Où regarder Shaun of the Dead en streaming complet et légal ?
Il est possible de louer "Shaun of the Dead" sur Apple TV, Google Play Movies en ligne et de télécharger sur Apple TV, Google Play Movies.
Résumé
À presque 30 ans, Shaun ne fait pas grand-chose de sa vie. Entre l'appart qu'il partage avec ses potes et le temps qu'il passe avec eux au pub, Liz, sa petite amie, n'a pas beaucoup de place. Elle qui voudrait que Shaun s'engage, ne supporte plus de le voir traîner. Excédée par ses vaines promesses et son incapacité à se consacrer un peu à leur couple, Liz décide de rompre. Shaun est décidé à tout réparer, et tant pis si les zombies déferlent sur Londres, tant pis si la ville devient un véritable enfer. Retranché dans son pub préféré, le temps est venu pour lui de montrer enfin de quoi il est capable...
Videos: Trailers, Teasers, Bandes-annonces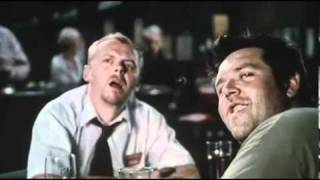 Genres
Horreur, Made in Europe, Comédie
Pays de production
Etats Unis, France, Royaume-Uni
Casting
Lucy Akhurst
Zombie Shot by Soldiers (uncredited)
Joe Cornish
Zombie Shot by Soldiers (uncredited)
Garth Jennings
Fun Dead Zombie (uncredited)
Paul Kaye
Zombie Behind The Winchester (uncredited)
Lauren Laverne
Zombie Outside Flat (uncredited)
Michael Smiley
Bicycle Courier Zombie (uncredited)
Rob Brydon
Football Commentator / 'Zombies From Hell!' Presenter (voice) (uncredited)
Julia Davis
News Reporter (voice) (uncredited)
Mark Gatiss
Radio Presenter With 'Spaceship' Theory / Wildlife voiceover (voice) (uncredited)
Robert Popper
News Reporter (voice) (uncredited)
David Walliams
News Reporter (voice) (uncredited)
Peter Baynham
Man in Street (uncredited)
Edgar Wright
Rabid Monkeys Newsreader / Prat-falling Zombie / Italian Restaurant Voice (uncredited)
Ca pourrait aussi vous intéresser
Prochains films populaires