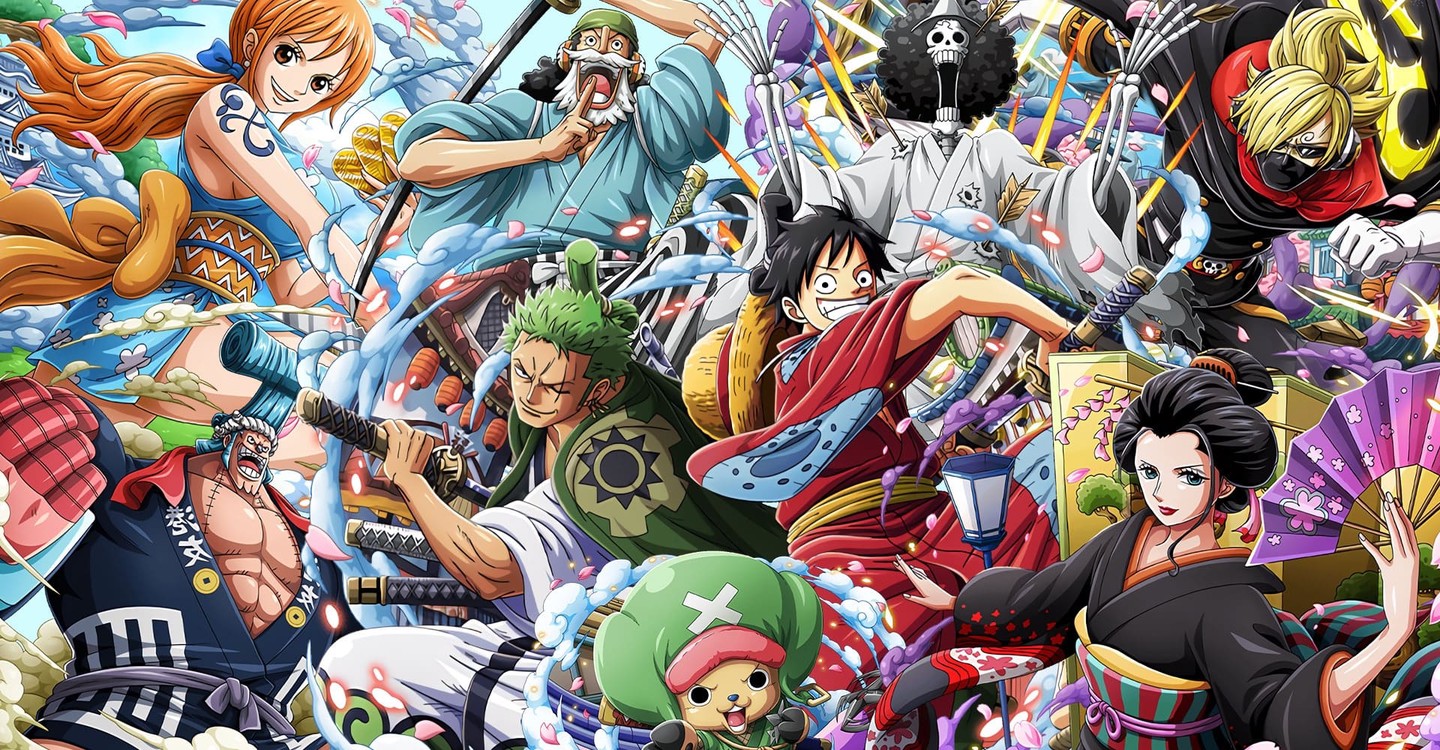 124 Episódios
T15 Ep1

-

A New Chapter Opens - The Straw Hat Pirates Regather!

T15 Ep2

-

An Explosive Situation! Luffy vs Fake Luffy

T15 Ep3

-

The Marines Move Out - The Straw Hat Crew Is Targeted

T15 Ep4

-

A Gathering of Big Shots - Threat of the Fake Straw Hat Crew

T15 Ep5

-

The Battle Begins! Show Them the Fruits of Training!

T15 Ep6

-

The Whole Crew is Gathered - Luffy Sets Sail Towards the New World

T15 Ep7

-

A Shocking Revelation - The Man Who Protected the Sunny

T15 Ep8

-

Undersea Struggle - The Demon of the Deep Appears

T15 Ep9

-

Disaster in the Deep Sea, The Straw Hat Crew Gets Lost!

T15 Ep10

-

Undersea Volcanic Eruption! Sailing To Fishman Island

T15 Ep11

-

Landing at Fishman Island - The Lovely Mermaids

T15 Ep12

-

Explosive Stimulation! Sanji's Life Crisis!

T15 Ep13

-

Fishman Island Collapses!? Shirley's Prediction

T15 Ep14

-

The King of Fishman Island, Sea God Neptune!

T15 Ep15

-

The Ryugu Castle! Brought by the Shark They Saved

T15 Ep16

-

A Coward and a Crybaby! The Princess in the Hard Shell Tower

T15 Ep17

-

State of Emergency! Ryugu Palace Taken Over!

T15 Ep18

-

Ryugu Palace Quivers! The Case of the Kidnapped Shirahoshi

T15 Ep19

-

Hordy's Invasion! The Beginning of the Plan for Revenge!

T15 Ep20

-

The Ryugu Palace Fight! Zoro vs. Hordy!
---
Gêneros
Ação & Aventura
,

Comédia
,

Animação
,

Drama
,

Fantasia
Cast
Sinopse
The Punk Hazard Arc is the twenty-sixth story arc in the series and the first in the Dressrosa Saga of the One Piece series, continuing on from the Fishman Island Arc and the Fishman Island Saga. Upon finally entering the New World, the Straw Hat Pirates immediately receive a distress call from a group of people on an island called Punk Hazard, stating that they are being attacked by a samurai. Without hesitation, Luffy sets out to the blazing island, with Vice Admiral Smoker hot on his tail. On the supposedly death-ridden and empty island, the Straw Hats soon learn that they are not alone, meeting many new and old foes as they explore the purpose of the island. Punk Hazard is made up of a frozen side and a burning side. The island also contains the abandoned research laboratories of Dr. Vegapunk. Punk Hazard is the first island the Straw Hats encounter in the New World.
Assistir One Piece Temporada 15
"One Piece - Temporada 15" em breve disponível novamente.