Watch Now
PROMOTED
Watch Now
Chameleon Street - watch online: streaming, buy or rent
Currently you are able to watch "Chameleon Street" streaming on Criterion Channel. It is also possible to buy "Chameleon Street" on Apple TVas download or rent it on Apple TVonline.
Where can I watch Chameleon Street for free?
There are no options to watch Chameleon Street for free online today in Canada. You can hit the notification bell and we'll let you know as soon as the movie is available to watch for free on streaming services and TV.
Synopsis
William Douglas Street is bored with his life. Working for his father is getting to him, his wife wants more money, and he's had enough. His solution is to re-invent himself. He becomes a chameleon, taking on whatever role suits the situation. From reporter to doctor to lawyer, he impersonates anyone he feels a need to be and he can earn money being. The movie is based on the real figures William Douglas Street, Jr. and Erik Dupin.
Videos: Trailers, Teasers, Featurettes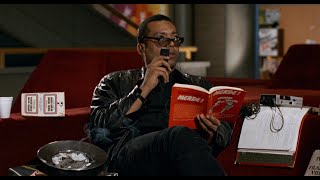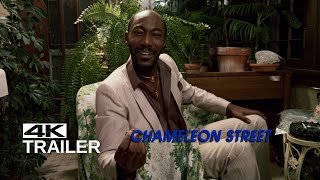 Production country
United States
Cast
Timothy Alvaro
Brian Whitaker, Detroit Human Rights Commission
William Ballenger
Attorney Barrett, The Head Honcho
Mike Barron
Roddie Pettigrew, Detroit Human Rights Commission
Thomas Bashaw
Mr. Remus Shaw, Yale Faculty Advisor
Alfred Bruce Bradley
Smooth Chance, The Amorous Convict
Jason Childress
Shorter Arresting Policeman
Daphne Davis
Blood Bank Nurse with Braces / Fable
Anthony Ennis
Curtis / Prelude Narration
Pamela Elaine Folts
Weena Longhaircomb, Yalie
Maurice Givens
Ron "This-is-my-brother's-coat" Calvin
Anita Gordon
Darlene Street, First Wife
Charles Groulx
Platinum Haired Yalie at the Computer
Wanda Harden
Ondine Holloway: L.A. Literary Agent at Masked Ball
Wanda Harden
Ondine Holloway: L.A. Literary Agent at Masked Ball
Cordillera Hawkins
Blood Bank Nurse against wall
Rosetta Haywood
Red Dress Diva at Press Conference
Collette Haywood
Melissa Lipscomb, McGee's Secretary
Dale Janni
Ken Underwood, with knife and clown doll at Masked Ball
Leon Janni
Warden Wiley Corey in Jackson Prison
Stephanie Jones
Delightful Young Vixen at Court of Louie Louie at Masked Ball
Roslyn Kramer
Marquessa deDawn at Masked Ball
Jeff Lamb
Attorney Jack Griffin, The Hatchet Man
Gary Maas
Agent Brown Beard Beady Eye
John Mietelka
Stearns is the Ugly Side of Bar
Dimitri Mugianis
Robespierre of Fantomas Judex
Peppy Rosenthal
Mrs. Robertson, Hospital Screamer
Amy Sarginson
Red Masked Bird of Paradise
Bruce Seyburn
Mr. Marshall, Attorney, D.H.R.C.
Anthony 'Spike' Simms
Wesley, Synge, Punk Yalie
Davina Simpson
Dancing Delta Theta Sigma Soror
Michael Sowle
Rick, the Newly Hired Happy White Boy
David Standridge
Junior Resident Tom avec Wispy Beard
Amy Lynn Straniero
Countless Zaftig-promises-paradise
Yvette Stephenson
Bridgette Zoftig, Sipping Yalie
Daniel Taylor
Servant #9 of the Insulting French Phrase
Cathy Thomas
Spurned Lover of Mr. Marshall
Shondra Thurman
Stella-for-Star at Masked Ball
Jennifer Turner
Street's Daughter, Danielle
Lisa Urban
Nurse Jane Ardent, The Heavy Breather
Henri S. Watkins
Eugene Raymond, Prisoner of Comics
Harry Wetzel
Attorney with no name but Teeth
Brenda Williams
Broadside Press Beauty #2
Christopher Williams
Darren Street, the Brother
Ernest Willis
Persistent Reporter Tailing Hizzoner
Ralph Wilson
Martin Long, Yalie with Ashtray
Nancy Wolfgang
Female Servant at Masked Ball
People who liked Chameleon Street also liked
Popular movies coming soon