10 Episodios
T2 E1

-

Pensamientos de un hombre libre

T2 E4

-

Hombres de sangre

T2 E10

-

Polvora, traición y complot
Vídeos: Trailers y Featurettes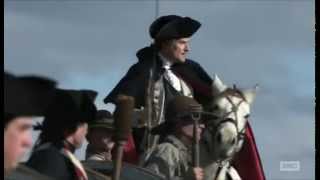 Sinopsis
The Patriot cause has suffered the crushing loss of their capital city of Philadelphia to the British. Washington's army faces desertion and death, and the embattled General faces conspirators from within his own ranks, as well as personal demons he keeps hidden from the men he leads. Washington's closest ally in these dark times is also his most celebrated battle commander, Benedict Arnold a friend whose growing discontent will threaten the fate of the Revolution. Outnumbered and outgunned on the battlefield, Washington is counting on his ring of young spies and his greatest hope, Abe Woodhull, a lone civilian deep behind enemy lines, who finds he has little left to lose and is willing to risk everything he has left... including his soul.
Ver TURN: Espías de Washington - temporada 2 online: por stream, comprarlo o rentarlo
No hay oferta para "TURN: Espías de Washington - Temporada 2" en este momento.