Synopsis
After a slow but eventful summer vacation, Shuchiin Academy's second term is now starting in full force. As August transitions into September, Miyuki Shirogane's birthday looms ever closer, leaving Kaguya Shinomiya in a serious predicament as to how to celebrate it. Furthermore, the tenure of the school's 67th student council is coming to an end. Due to the council members being in different classes, the only time Kaguya and Miyuki have to be together will soon disappear, putting all of their cunning plans at risk.
Streaming, rent, or buy Kaguya-sama: Love Is War – Season 2:
Currently you are able to watch "Kaguya-sama: Love Is War - Season 2" streaming on Crunchyroll.
12 Episodes
S2 E1

-

Ai Hayasaka Wants to Stave Them Off / The Student Council Has Not Achieved Nirvana / Kaguya Wants to Get Married / Kaguya Wants to Celebrate

S2 E2

-

Kaguya Wants to Know / Kaguya Wants to Give a Gift / Chika Fujiwara Wants to Confirm It

S2 E3

-

Miyuki Shirogane Wants to Gaze at the Moon / The 67th Student Council / Kaguya Doesn't Want to Say It

S2 E4

-

Ai Hayasaka Wants Him to Fall for Her / Kaguya Wants to Be Confessed To / Miko Iino Wants to Set Things Right

S2 E5

-

Miyuki Shirogane Wants Girls to Fall for Him / Nagisa Kashiwagi Wants to Console / Miyuki Shirogane Wants to Sing / Kaguya Wants to Kick Them Down

S2 E6

-

I Don't Want to Make Miko Iino Smile / I Want to Make Miko Iino Smile / Kaguya Isn't Getting Called

S2 E7

-

Kaguya Wants to Undress Him / Kaguya Wants to Make Him Let Go / Miyuki Shirogane Wants to Make Her Read / Kaguya ♡ Aquarium

S2 E8

-

Miko Iino Wants to Control Herself / Kaguya Doesn't Scare Easily / Kaguya Wants to Be Examined

S2 E9

-

Yu Ishigami Closes His Eyes, Part 2 / Kaguya Wants to Touch / Kaguya Doesn't Say No

S2 E10

-

Kei Shirogane Can't Speak / Miyuki Shirogane Wants to Dance / Kobachi Osaragi Wants to Crack Down / Miyuki Shirogane's Dad Wants to Find Out

S2 E11

-

Yu Ishigami Closes His Eyes, Part 3 / Miyuki Shirogane and Yu Ishigami / Kyoko Otomo Doesn't Realize

S2 E12

-

The Student Council Would Like a Group Photo / The Student Council Is Going to Get That Group Photo / Chika Fujiwara Wants to Inflate
Videos: Trailers, Teasers, Featurettes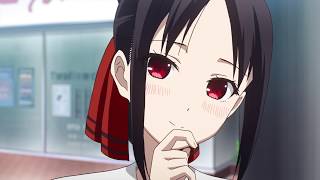 ---
Genres
Animation, Comedy, Drama, Romance, Mystery & Thriller