Guarda adesso
IN PROMOZIONE
Guarda adesso
Streaming, acquisto o noleggio di Stagione 1 Stagione 1
Adesso puoi guardare "The Crowded Room - Stagione 1" in streaming su Apple TV Plus.
Sinossi
Il tormentato passato di Danny Sullivan
Manhattan, 1979: un uomo di nome Danny Sullivan viene arrestato per il coinvolgimento in una sparatoria. Quando l'investigatrice Rya Goodwin viene incaricata di interrogarlo, Danny inizia a raccontare il proprio passato, i suoi trascorsi con la malattia mentale e gli scioccanti eventi che lo hanno condotto alla situazione presente.
10 Episodi
S1 E7

-

Una stanza piena di gente
JustWatch Daily Streaming Charts
Panoramica
Una miniserie thriller prodotta e interpretata da Tom Holland
"The Crowded Room - Stagione 1" è la prima stagione della miniserie thriller di 10 The Crowded Room episodi creata dal premio Oscar per la miglior sceneggiatura non originale di A beautiful Mind Akiva Goldsman per la piattaforma Apple TV+. La serie, prodotta da Tom Holland che interpreta anche il protagonista Danny, si basa sul romanzo "Una stanza piena di gente" (titolo originale "The minds of Billy Milligan") di Daniel Keyes, pubblicato nel 1981.
Oltre a Holland, nel cast della stagione 1 troviamo l'attrice americana Amanda Seyfried (Mamma mia!, Les Misérables) nel ruolo dell'investigatrice Rya Goodwin ed Emmy Rossum (la Fiona Gallagher di Shameless) che interpreta Candy Sullivan, madre di Danny.
Produzione
2021-04-08

Viene annunciato che Tom Holland sarà il protagonista di "The Crowded Room", una miniserie thriller per la piattaforma AppleTV+. (Fonte: The Hollywood Reporter)

2022-03-31

Iniziano le riprese della serie a New York City, per concludersi nel settembre del 2022. (Fonte: Teen Vogue)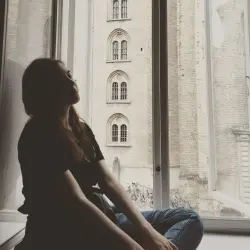 Sarah Grossi
Generi
Drammatico, Thriller e Mistero, Giallo
simile a The Crowded Room
Popular TV shows coming soon
Upcoming Drammatico TV shows