Fantastiniai gyvūnai ir kur juos rasti
(2017)
Video: anonsai, ištraukos, iškarpos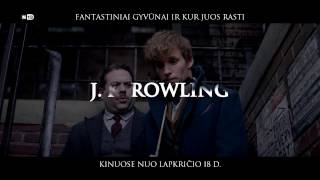 ---
Žanrai
Action & Adventure
,

Fantasy
,

Kids & Family
santrauka
Į Jungtinių Valstijų burtininkų kongresą atvykusį magiškuosius gyvūnus tyrinėjantį ir gelbėjantį Niutą Skamanderį ištinka bėda – pasprunka keletas jo stebuklingame lagaminėlyje laikytų fantastinių gyvūnų. Tuo pasinaudojusi suaktyvėja burtininkų išnaikinimo siekianti organizacija. Magijos pasaulio valdžia dėl to labai nepatenkinta ir Niutas priverstas sprukti. Krizę dar labiau paaštrina didėjanti nesantaika tarp burtininkų ir žiobarų. Skamanderis privalo išsiaiškinti, kas slypi už staiga kilusio chaoso ir skleidžiamos panikos, ir, be to, kuo greičiau sugaudyti iš jo lagaminėlio pasprukusius fantastinius gyvūnus, kol šie nespėjo pridaryti žalos.
Fantastiniai gyvūnai ir kur juos rasti -
You can buy "Fantastiniai gyvūnai ir kur juos rasti" on Google Play Movies, Apple iTunes as download or rent it on Telia Play, Google Play Movies online.
Žmonės, kuriems patiko Fantastiniai gyvūnai ir kur juos rasti, taip pat patiko