Video: anonsai, ištraukos, iškarpos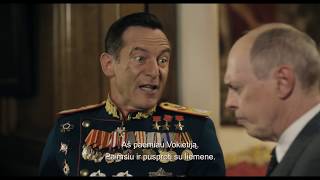 ---
Žanrai
Drama, Comedy, History, War & Military, Made in Europe
santrauka
Kai visa tauta bijo vieno žmogaus, jam palikus valdžios sostą prasideda velniškai juokinga kova. Žinoma, dėl valdžios! Nuotaikingai komiška drama "Stalino mirtis" atskleidžia tikrą istoriją nutikusią prieš daugiau nei 50 metų. Istorija puikiai žinoma visiems lietuviams, šioje komedijoje atsiskleis naujomis spalvomis. Miršta komunistų diktatorius Jozefas Stalinas. Po šio Didžiojo Tėvo mirties, ministrų kabinete pakyla įtampa – ministrai dalijasi valdžią. Vieni nori teigiamų pokyčių 1950-ųjų Sovietų Sąjungoje, kiti turi savų, gerokai nuodėmingesnių kėslų. Bet visus juos vienija vienas ir tas pats bruožas – valdžios godulys.
The Death of Stalin -
You can rent "Stalino mirtis" on Telia Play online.
Žmonės, kuriems patiko Stalino mirtis, taip pat patiko