20 Episodes
S1 E1

-

To You, in 2000 Years: The Fall of Shiganshina (1)

S1 E2

-

That Day: The Fall of Shiganshina (2)

S1 E3

-

A Dim Light Amid Despair: Humanity's Comeback (1)

S1 E4

-

The Night of the Closing Ceremony: Humanity's Comeback (2)

S1 E5

-

First Battle: The Struggle for Trost (1)

S1 E6

-

The World the Girl Saw: The Struggle for Trost (2)

S1 E7

-

Small Blade: The Struggle for Trost (3)

S1 E8

-

I Can Hear His Heartbeat: The Struggle for Trost (4)

S1 E9

-

Whereabouts of His Left Arm: The Struggle for Trost (5)

S1 E10

-

Response: The Struggle for Trost (6)

S1 E11

-

Idol: The Struggle for Trost (7)

S1 E12

-

Wound: The Struggle for Trost (8)

S1 E13

-

Primal Desire: The Struggle for Trost (9)

S1 E14

-

Can't Look Into His Eyes Yet: Eve of the Counterattack (1)

S1 E15

-

Special Operations Squad: Eve of the Counterattack (2)

S1 E16

-

What Needs to be Done Now: Eve of the Counterattack (3)

S1 E17

-

Female Titan: The 57th Exterior Scouting Mission (1)

S1 E18

-

Forest of Giant Trees: The 57th Exterior Scouting Mission (2)

S1 E19

-

Bite: The 57th Exterior Scouting Mission (3)

S1 E20

-

Erwin Smith: The 57th Exterior Scouting Mission (4)
Videos: Trailers, Teasers, Featurettes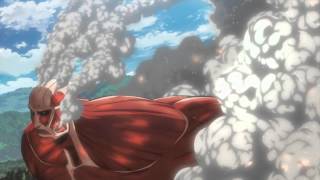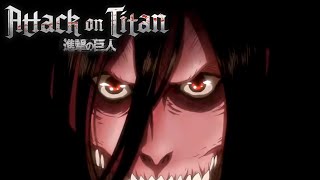 ---
Genres
Animation, Action & Adventure, Science-Fiction, Drama, Fantasy, Horror
Synopsis
Centuries ago, mankind was slaughtered to near extinction by monstrous humanoid creatures called titans, forcing humans to hide in fear behind enormous concentric walls. What makes these giants truly terrifying is that their taste for human flesh is not born out of hunger but what appears to be out of pleasure. To ensure their survival, the remnants of humanity began living within defensive barriers, resulting in one hundred years without a single titan encounter. However, that fragile calm is soon shattered when a colossal titan manages to breach the supposedly impregnable outer wall, reigniting the fight for survival against the man-eating abominations.
Streaming, rent, or buy – Season 1:
Currently you are able to watch "Attack on Titan - Season 1" streaming on Netflix, Amazon Prime Video, Disney Plus.
People who liked Season 1 also liked