17 Episodes
S4 E1

-

Chapter Sixty-Five

S4 E2

-

Chapter Sixty-Six

S4 E3

-

Chapter Sixty-Seven

S4 E4

-

Chapter Sixty-Eight

S4 E5

-

Chapter Sixty-Nine

S4 E7

-

Chapter Seventy-One

S4 E8

-

Chapter Seventy-Two

S4 E9

-

Chapter Seventy-Three

S4 E10

-

Chapter Seventy-Four

S4 E11

-

Chapter Seventy-Five

S4 E12

-

Chapter Seventy-Six

S4 E13

-

Chapter Seventy-Seven

S4 E14

-

Chapter Seventy-Eight

S4 E15

-

Chapter Seventy-Nine

S4 E17

-

Chapter Eighty-One
Videos: Trailers, Teasers, Featurettes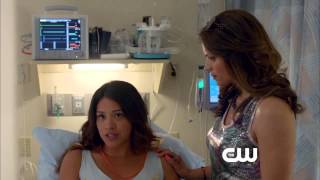 Cast
Synopsis
It's been quite a year (or three) for Jane Villanueva. She got married and then, at long last… Jane had sex. That's right, friends, she's Jane the Virgin no more! And let me tell you, married life was everything she had hoped for… until the worst thing ever happened and Michael died. I know. It was a heartbreaker. We pick our story up three years later and Jane's life is certainly not what she planned. First of all, she's a widow, like her Abuela. But she's also channeled that grief into a book about her love story with Michael… And guess what? It was being published! Oh, and also on the bright side – Jane's parents finally found their way back to each other and got engaged. And speaking of finding their way back to each other, Jane and Rafael are now the closest of friends. And it's a good thing, because remember their cute, snuggly son Mateo? Well, he's now quite the handful – to put it mildly. And to make matters worse – Rafael's twins he had with Petra were frickin' angels. Oh, and Petra was kicking butt professionally too. Business was booming at the Marbella until everyone's (not) favorite employee Scott was found dead! I know, OMG, right? And soon, Petra and her twin sister Anezka were both suspects! But you know who it actually was… ? Actually, I'm not going to spoil it, but trust me – it was straight out of a telenovela...
Streaming, rent, or buy Jane the Virgin – Season 4:
Currently you are able to watch "Jane the Virgin - Season 4" streaming on Netflix.