Spider-Man: Far From Home
(2019)
Watch Now
PROMOTED
Watch Now
Spider-Man: Far From Home - watch online: streaming, buy or rent
Currently you are able to watch "Spider-Man: Far From Home" streaming on Hotstar, Amazon Prime Video. It is also possible to buy "Spider-Man: Far From Home" on Google Play Movies, Apple TVas download or rent it on Apple TV, Google Play Moviesonline.
JustWatch Daily Streaming Charts
Synopsis
Peter Parker and his friends go on a summer trip to Europe. However, they will hardly be able to rest - Peter will have to agree to help Nick Fury uncover the mystery of creatures that cause natural disasters and destruction throughout the continent.
Videos: Trailers, Teasers, Featurettes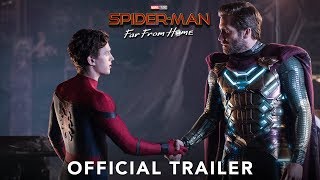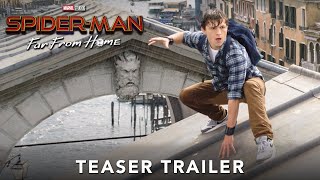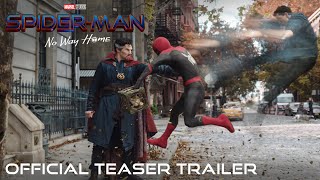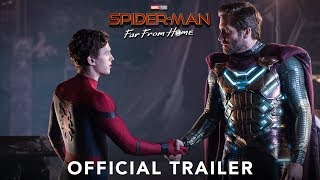 Genres
Action & Adventure, Science-Fiction, Comedy
Production country
United States
Cast
Tom Holland
Peter Parker / Spider-Man
Shari Abdul
High School Reporter (uncredited)
Mari Alexandrova
Tourist in Venice (uncredited)
Kristen Alminta
Police Officer (uncredited)
Vincent Angel
Midtown High Student (uncredited)
Peter Arpesella
Airplane Pilot (uncredited)
Lasco Atkins
Salvation Army guest (uncredited)
Blair Barnette
Queens Reporter (uncredited)
Tuwaine Barrett
Officer Bristow (extended cut)
Anna Benamati
Shop Owner in Venice (uncredited)
Avondre E.D. Beverley
High School Student (uncredited)
Luigi Boccanfuso
Italian Builder in Venice (uncredited)
Dante Brattelli
High School Student (uncredited)
Jeff Bridges
Obadiah Stane (archive footage) (uncredited)
Graham Burton
London Passerby (uncredited)
Ken Byrd
Post Office Customer (uncredited)
Gianni Calchetti
Venetian Fish Stall Owner (uncredited)
Darren Lee Campbell
Victoria's Crew (uncredited)
Hélène Cardona
Austrian Backpacker (uncredited)
Dian Cathal
American Reporter (uncredited)
Jake Cerny
Airport Traveler (uncredited)
Daphne Cheung
Passport Clerk (uncredited)
Sam Chuck
High School Student (uncredited)
Kimberly Collison
Charity Event Mom (uncredited)
Tiziana Coste
Local Venetian (uncredited)
Charlie Esquér
Mexican Survivor (uncredited)
Ria Fend
Tourist in Venice (uncredited)
Ferroz Fernandez
Tourist in Venice (uncredited)
Vincent Frattini
Venice Local (uncredited)
Massi Furlan
Flight Attendant (uncredited)
Cynthia Garbutt
Charity Dinner Guest (uncredited)
Thomas Goodridge
Tourist in Venice (uncredited)
Nicholle Hembra
Saved Londoner (uncredited)
Meagan Holder
Pretty Tourist (uncredited)
Chris Hyacinthe
Sneezy Tour Guide (uncredited)
Michael Iacono
Airport Kid Traveler (uncredited)
Roman Ibragimov
Bar Customer (uncredited)
Timothy Christian Jansen
High School Student (uncredited)
Keon Kendrick
Flight Attendant (uncredited)
Camille Kinloch
Midtown High School Student (uncredited)
Michal Kubal
Czech TV News Anchor (uncredited)
Géraldine Lamarre
Traffic Warden (uncredited)
Jimena Larraguivel
Mexican Villager (uncredited)
Kath Leroy
Czech Traditional Dancer (uncredited)
Patrick Loh
Airport Passenger (uncredited)
Marian Lorencik
New Czech Reveler (uncredited)
Ketan Majmudar
Berlin Commuter (uncredited)
Eustace Meade
Charity Attendant (uncredited)
Julia Mollin
Flute Player (uncredited)
Adrian Mozzi
Venice Local (uncredited)
Brendan Murphy
Police Officer (uncredited)
Amanda Musso
Carnival Hot Girl (uncredited)
Emily Ng
Italian Tourist (uncredited)
Karen Parks
Charity Event Attendee (uncredited)
Hiten Patel
British Station Staff (uncredited)
Clay Pel-is
London Tourist (uncredited)
Aleksandrs Petukhovs
London Passerby (uncredited)
Martin Polak
Czech Reveler (uncredited)
Sofia Renee
High School Student (uncredited)
Sawyer Reo
Young Brad Davis (uncredited)
Cailan Robinson
Victoria's Crew (uncredited)
Emmanuel Rodriguez
Airport Traveler (uncredited)
Daniel Ryves
Dad Collecting Kids (uncredited)
Karen-J Sear
American Tourist (uncredited)
Ilya Tank Shilov
Venice Tourist (uncredited)
Davina Sitaram
London Tourist (uncredited)
Joakim Skarli
London Tourist (uncredited)
Richard Stanley
Charity Dinner Attendee (uncredited)
Faith Tarby
Perfumed Lady (uncredited)
Emily Tebbutt
Venice Tourist (uncredited)
Oskar Ulvestad
Street Pedestrian (uncredited)
Joe David Walters
Pawn Shop Owner (uncredited)
Jo Wheatley
Armed Security Officer (uncredited)
Dale Wilder
German Office Worker (uncredited)
Rocco Wu
Peter's Art Classmate (uncredited)
Jan Zalabak
Tourist in Town (uncredited)
Alessandro Sciarra
Screaming Kid (uncredited)
People who liked Spider-Man: Far From Home also liked
Popular movies coming soon
Upcoming Action & Adventure movies