Sicario: Askerin Günü
(2018)
Orijinal Adı: Sicario: Day of the Soldado
Özet
Uyuşturucu kartelleri, teröristleri ABD sınırından kaçak yollarla geçirmeye başlayınca, federal ajan Matt Graver, gizemli Alejandro'yla iletişime geçer. Ailesi bir kartel patronu tarafından öldürülen Alejandro'nun görevi, en alçakça yollarla savaşı kızıştırmaktır. Alejandro, savaşı alevlendirmek için kartel patronunun kızını kaçırır fakat kız, sivil zayiat olarak görülmeye başlayacak ve kızın kaderi, ne için savaştıklarını sorgulayan bu iki adamın elinde olacaktır.
Sicario: Day of the Soldado yayını: İnternet üzerinde nereden izleyebilirsiniz?
You can buy "Sicario: Askerin Günü" on Apple TV, Google Play Movies as download or rent it on Google Play Movies, Apple TV online.
Videolar: Fragmanlar, Tanıtımlar, Kısa Filmler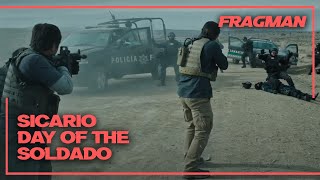 ---
Türler
Drama, Gizem ve Gerilim, Aksiyon & Macera, Suç