Coming soon
December 9, 2022
9 weeks left
Synopsis
This poignant and emotional love story is set on the southern English coast in the turbulent 1980s. The film is centered on a rundown old cinema; the Empire. With its outmoded art deco and its peculiar staff, the movie theater is a constant in a time of social upheaval and political change. Poring over the pictures is the projectionist Norman, who guards his craft with love and precision. As the light beams onto the screen in the auditorium and the moviegoers witness the picture at play all of the is magic happening elsewhere. The relationship between Hilary and Stephen, the manager and her new hire grows into a testing but tender romance. Can their bourgeoning love survive the rising tide of racism and the aching personal loneliness of a theater manager who has never seen a movie in her own cinema?
What to know
Empire of Light is an upcoming romantic drama directed by Academy award winner Sam Mendes. After building his reputation with Hollywood classics like American Beauty and Road to Perdition, Mendes is continuing a latter-stage trend in his career of writing, directing, and producing his pictures. He is a renowned director for the stage as well as film, having won two Tony awards and three Olivier Awards. Iconic English cinematographer Roger Deakins is on board to handle the imagery and a soaring score from Trent Reznor and Atticus Ross gives the movie its unique sound.
The actors moving the story along share between them a host of impressive awards. Leading the cast is Olivia Colman, equally adept in both comedic and dramatic roles, the actress has garnered BAFTAs, Emmy's, Oscars, and Golden Globes in a glittering career. Playing opposite her is relative newcomer Michael Ward, who himself has already won a BAFTA and is known for his roles in TV. He was especially recognized for his role in Small Axe: Lover's Rock, an anthology movie by the acclaimed British director Steve McQueen. The pair are joined by Toby Jones and Colin Firth both of whom bring their own stardust and quality to the movie in supporting roles. The wider cast includes Crystal Clarke, Tanya Moodie, Tom Brooke, Hannah Onslow, and Justin Edwards.
Production: Timeline, news & updates
April 6, 2021: Searchlight Pictures confirm that they are teaming up with Sam Mendes in order to bring his new picture, Empire of Light, to life. The movie has Olivia Colman in negotiations to star in a lead role with acclaimed cinematographer Roger Deakins confirmed behind the camera.(Source: Deadline)
July 27, 2021: Michael Ward is cast opposite Olivia Colman in the movie. Ward was picked after a number of actors auditioned, and is known for his work on the television show Top Boy, and a BAFTA-award winning role in Small Axe: Lover's Rock. (Source: Deadline)
December 21, 2021:The supporting cast are revealed. Colin Firth, Toby Jones, Tanya Moodie, and Crystal Clarke all join the picture which is now confirmed to be a love story set in the 1980s around an old cinema. (Source: Deadline)
February 7, 2022:Filming began in the historic coastal town of Margate on the Isle of Thanet in Kent. (Source: ProductionList)
August 23, 2022:Trent Reznor and Atticus Ross are confirmed to be scoring the picture.(Source: FilmMusicReporter)
August 24, 2022:The first trailer is released, giving a sense of the moody tones and high drama of the film. (Source: YouTube)
September 3, 2022: Empire of Light has its world premiere at the Telluride Film Festival. (Source: The Hollywood Reporter)
Videos: Trailers, Teasers, Featurettes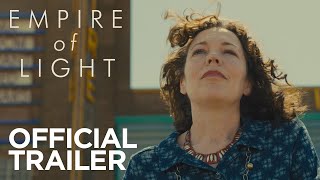 Empire of Light streaming: where to watch online?
Empire of Light will be available to stream from December 9, 2022. The streaming service that will include Empire of Light in its media library is still unknown, but you can stay updated by tracking this movie on JustWatch.