100 Episodes
S16 E1 -

Landing! The Burning Island, Punk Hazard

S16 E2 -

A Scorching Battle! Luffy vs. the Giant Dragon!

S16 E3 -

The Crew is Confused! The Shocking Beheaded Samurai Appears!

S16 E4 -

Shock ! The Secret of the Island is Finally Revealed !

S16 E5 -

Save the Children! Gang Fight Starts!

S16 E6 -

A Duel of Swordplay! Brook vs. the Mysterious Samurai Torso

S16 E7 -

Shichibukai! Trafalgar Law

S16 E8 -

A Big Pinch - Luffy Sinks Into the Cold Lake

S16 E9 -

A Collision! Law vs. Vice Admiral Smoker!

S16 E10 -

First Meeting in Two Years! Luffy and Law

S16 E11 -

Worst of the World - The Scary Scientist Caesar

S16 E12 -

Chopper Enraged Master's Tyrannical Experiments

S16 E13 -

Gang Obliteration! Legendary Hitmen Attack!

S16 E14 -

Save Nami! Luffy's Snow Mountain Battle

S16 E15 -

Formation! The Pirate Alliance Luffy-Law!

S16 E16 -

Capture Master ! The Pirate Alliance's Operation Begins!

S16 E17 -

Destruction Crisis - The Monster of Death Flies in

S16 E18 -

Big Battle ! Caesar Activates his True Ability!

S16 E19 -

The Samurai that Cuts the Fire! Kin'emon of Foxfire

S16 E20 -

Shock! Identity of Vergo, the Mysterious Man

S16 E21 -

Protect the Children! Reach of Master's Evil Hand!

S16 E22 -

New World's Severe Earthquake ! Caesar's Nightmare Experiment

S16 E23 -

The Deadliest Weapon of Mass Destruction in History! Shinokuni!

S16 E24 -

The Counterattack Begins! Luffy and Law's Great Escape

S16 E25 -

The Aim is Building R! The Pirate Alliance's Great Assault!

S16 E26 -

Tashigi's Tears - G5's Suicidal Breakthrough Strategy

S16 E27 -

Vice Admiral's Betrayal! Demon Bamboo Vergo

S16 E28 -

Incandescent Fierce Battle - Luffy vs. Caesar

S16 E29 -

The Mastermind in the Shadows! Doflamingo Moves!

S16 E30 -

Luffy's Freezing to Death!? The Terrifying Snow Woman, Monet!

S16 E31 -

Fist Fight! Two Vice Admirals Fight

S16 E32 -

The Small Dragon! Momonosuke Revealed

S16 E33 -

The Giant Battle! The Straw Hat Crew vs. The Snow Woman

S16 E34 -

Secret Technique Blasts! Zoro's Strongest One-Sword Style!

S16 E35 -

I'll Protect My Friends! Mocha's Desperate Escape

S16 E36 -

Brownbeard's Bitterness! Luffy's Anger Attack

S16 E37 -

Ein überraschender Ausgang! Der weisse Jäger gegen Vergo!

S16 E38 -

Caesars Niederlage! Die Kraft der Grizzly Magnum!

S16 E39 -

Überfall! Auftragsmörder aus Dressrosa!

S16 E40 -

Rampage! The Invincible Franky Shogun

S16 E41 -

Desperate Situation! Punk Hazard's Big Explosion

S16 E42 -

Capture Caesar - General Cannon Blast

S16 E43 -

Emotional Meeting! Momonosuke and Kin'emon

S16 E44 -

Regretful Departure - Leaving Punk Hazard

S16 E45 -

G-5's Annihilation! Doflamingo's Assault!

S16 E46 -

Tension! Aokiji vs. Doflamingo

S16 E47 -

Caesar has Disappeared! The Pirate Alliance Sallies

S16 E48 -

Luffy Dies in the Sea!? The Collapse of the Pirate Alliance

S16 E49 -

A Major Turnaround! Luffy's Angry Iron Fist Strikes!

S16 E50 -

To "Salvatore" admin ... read this

S16 E643 -

Shaking Heaven and Earth! Admiral Fujitora's Power!

S16 E644 -

A Blow of Anger! A Giant vs. Lucy!

S16 E645 -

Destruction Cannon Blasts! Lucy in Trouble!

S16 E646 -

The Legendary Pirate! Don Chinjao!

S16 E647 -

Light and Shadow! Darkness behind Dressrosa!

S16 E648 -

Making a Sortie! The Legendary Hero Usoland!

S16 E649 -

The Fierce Battle Coming to the End! Lucy vs. Chinjao!

S16 E650 -

Luffy and the Gladiator of Fate - Rebecca!

S16 E651 -

Protect You to the End! Rebecca and the Toy Soldier!

S16 E652 -

The Last - and Bloodiest - Block! Block D Battle Begins!

S16 E653 -

A Decisive Battle! Giolla vs. the Straw Hats!

S16 E654 -

Beautiful Sword! Cavendish of the White Horse!

S16 E655 -

The Great Clash! Sanji vs. Doflamingo

S16 E656 -

Rebeccca's Sword of Death! Backwater Sword Dance

S16 E657 -

The Most Violent Fighter! Logan vs. Rebecca!

S16 E658 -

A Big Surprise! A True Identity of the Toy Soldier!

S16 E659 -

A Horrible Past! The Secret of Dressrosa!

S16 E660 -

A Nightmare! The Tragic Night of Dressrosa!

S16 E661 -

A Showdown Between the Warlords! Law vs. Doflamingo

S16 E662 -

Two Great Rivals Meet Each Other! Straw Hat and Heavenly Demon!

S16 E663 -

Luffy Astonished! The Man Who Inherits Ace's Will!

S16 E664 -

Operation SOP Starts! Usoland Charges Forth!

S16 E665 -

A Burning Passion! Rebecca vs. Suleiman!

S16 E666 -

The End of the Match?! A Surprising Result of Block D!

S16 E667 -

The Admiral's Decision! Fujitora vs. Doflamingo!

S16 E668 -

The Final Round Starts! Diamante The Hero Shows Up!

S16 E669 -

A Moving Castle! The Top Executive Pica Rises up!

S16 E670 -

Dragon Claw Strikes! Lucy's Intimidating Attack!

S16 E671 -

Defeat Sugar! The Army of the Little People Charges!

S16 E672 -

The Last Light of Hope! The Secret of Our Commander!

S16 E673 -

The Rupture Human! Gladius Blows Up Big Time!

S16 E674 -

A Liar! Usoland on the Run!

S16 E675 -

A Fateful Encounter! Kyros and King Riku!

S16 E676 -

Operation Failed! Usoland the Hero Dies!?

S16 E677 -

The Legend is Back! Kyros' All-Out Attack!

S16 E678 -

The Fire Fist Strikes! The Flare-Flare Fruit Power Returns!

S16 E679 -

Dashing onto the Scene! The Chief of Staff of the Revolutionary Army - Sabo!

S16 E680 -

The Devil's Trap! A Dressrosa Extermination Plan!

S16 E681 -

The 500 Million Berry Man! Target: Usoland!

S16 E682 -

Breaking through Enemy Lines! Luffy and Zoro Launch the Counter-Attack!

S16 E683 -

With a Rumbling of the Ground! The God of Destruction - Giant Pica Descends!

S16 E684 -

Gathering into a Powerful Front! Luffy and a Group of Brutal Warriors!

S16 E685 -

Steady Progress! Luffy's Army vs. Pica!

S16 E686 -

A Shocking Confession! Law's Soulful Vow!

S16 E687 -

A Big Collision! Chief of Staff - Sabo vs. Admiral Fujitora!

S16 E688 -

A Desperate Situation! Luffy Gets Caught in a Trap!

S16 E689 -

A Great Escape! Luffy's Tide-turning Elephant Gun!

S16 E690 -

A United Front - Luffy's Breakthrough Towards Victory!

S16 E691 -

The Second Samurai - Evening Shower Kanjuro Appears

S16 E692 -

The Struggle with Pica - Zoro's One Finishing Move
Videos: Trailers, Teasers, Featurettes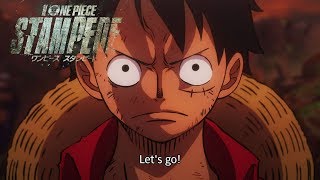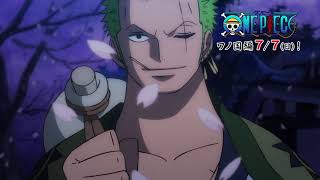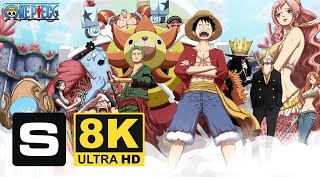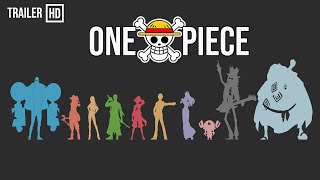 ---
Genres
Comedy
,

Action & Adventure
,

Animation
,

Fantasy
---
Synopsis
The Punk Hazard Arc is the twenty-sixth story arc in the series and the first in the Dressrosa Saga of the One Piece series, continuing on from the Fishman Island Arc and the Fishman Island Saga. Upon finally entering the New World, the Straw Hat Pirates immediately receive a distress call from a group of people on an island called Punk Hazard, stating that they are being attacked by a samurai. Without hesitation, Luffy sets out to the blazing island, with Vice Admiral Smoker hot on his tail. On the supposedly death-ridden and empty island, the Straw Hats soon learn that they are not alone, meeting many new and old foes as they explore the purpose of the island. Punk Hazard is made up of a frozen side and a burning side. The island also contains the abandoned research laboratories of Dr. Vegapunk. Punk Hazard is the first island the Straw Hats encounter in the New World.
Streaming, rent, or buy One Piece – Season 16:
Currently you are able to watch "One Piece - Season 16" streaming on Netflix, Hulu, Funimation Now or for free with ads on Tubi TV, Funimation Now, Pluto TV. It is also possible to buy "One Piece - Season 16" as download on Amazon Video.