Videa: Trailery, upoutávky, krátké filmy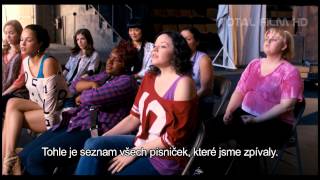 ---
Žánry
Romantika
,

Komedie
,

Hudba a hudební
Synopse
Beca (Anna Kendrick) nastoupila na novou školu a jako těžký introvert má v plánu nikam se nezařazovat a s nikým se nepřátelit. To je první důvod, proč ji nepotkáte jinak než se sluchátky na uších. Tím druhým je touha stát se úspěšnou dýdžejkou. Svého plánu se drží až do chvíle, než narazí na velmi nesourodou partu holek (upjaté královny krásy, urostlé drsňačky, sexuální dračice i těžké asociálky), které spojuje soutěžní sborové zpívání slavných písniček bez hudebního doprovodu. Ten si vytvářejí vlastním hlasem. Beca sice na první kolo námluv řekne "ne", ale nezpochybnitelný hudební sluch a schopnost zpívat čistě i ve sprše, ji nakonec do klubu zpívajících studentek přivede. Jenže Beca je tak trochu rebelka, a tak to okamžitě začne mezi ní a neoficiální šéfkou týmu Aubrey nezdravě jiskřit. Zatímco Aubrey je vyznavačka středního proudu, Beca neustále hledá nové cesty..
Sledování titulu Ladíme!: kde sledovat?
Aktuálně máte možnost sledovat "Ladíme!" streaming u Amazon Prime Video. Si můžete koupit "Ladíme!" u Apple iTunes, Google Play Movies ke stažení nebo si jej půjčit u O2 TV, Apple iTunes, Google Play Movies online.
Lidé, kteří měli rádi Ladíme!, měli také rádi