Scent of a Woman - Profumo di donna
(1992)
Titolo originale: Scent of a Woman
Video: trailer, teaser, extra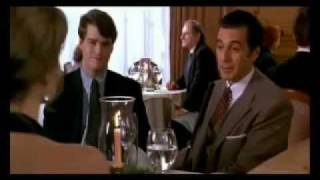 Cast
Sinossi
Frank Slade, colonello in pensione, diventato cieco a causa di un incidente, si reca a New York per la festa del ringraziamento, deciso a trascorrere un week-end indimenticabile senza farsi mancare assolutamente nulla. In questa avventura lo accompagna Charlie, uno studente, il rapporto sarà difficile, divertente ed allo stesso tempo tragico, perchè il colonello ha deciso che quello sarà il suo ultimo week-end.
Scent of a Woman - Profumo di donna - guarda online: streaming, acquisto or noleggio
Ci impegnamo ad aggiungere sempre nuovi providers, ma non siamo riusciti a trovare un'offerta online per "Scent of a Woman - Profumo di donna" . Per favore, ritorna presto e controlla se ci sono delle novità.