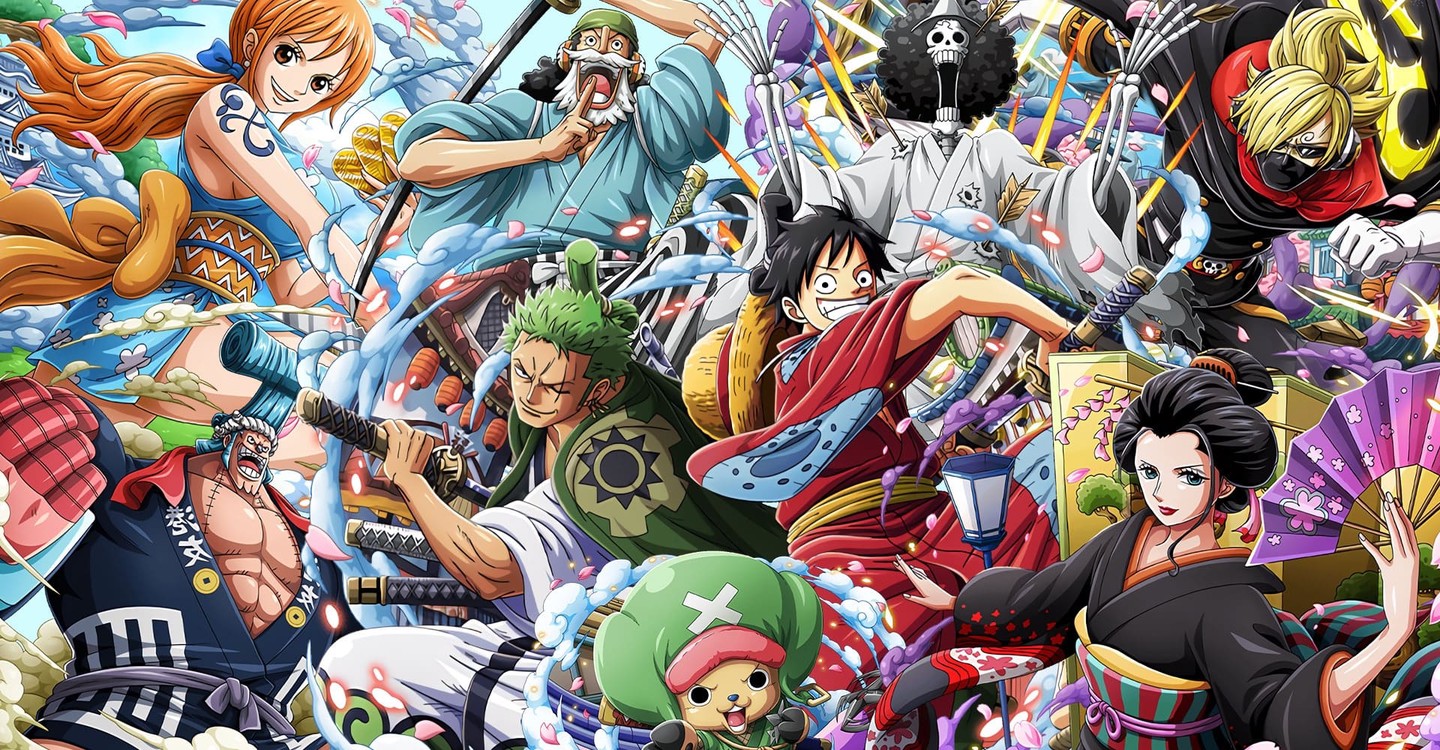 One Piece - Arcos G8, Long Ring Long Land & Retorno de Foxy
(2016)
Título Original: ワンピース
72 Episódios
T7 Ep1

-

A State of Emergency is Issued! A Notorious Pirate Ship has Infiltrated!

T7 Ep2

-

Sanji the Cook! Proving His Merit at the Marine Dining Hall!

T7 Ep3

-

Captured Zoro! Chopper's Emergency Operations!

T7 Ep4

-

The Marines Dragnet Closes In! The Second Member Captured!

T7 Ep5

-

Luffy and Sanji's Daring Rescue Mission!

T7 Ep6

-

Enter the Hot-Blooded Special Forces! Battle on the Bridge!

T7 Ep7

-

Here Come the Sand Pirates! The Men Who Live Free

T7 Ep8

-

Spirit of the Fakes! Heart of the Rebel Army, Kamyu

T7 Ep9

-

Rebel Warrior, Kohza! The Dream Sworn to Vivi!

T7 Ep10

-

The One Fell Swoop Plan! Jonathan's Surefire Secret Tactic!

T7 Ep11

-

Ruins and Lost Ones! Vivi, Nakama, and the Shape of a Country

T7 Ep12

-

At Spiders Cafe the Enemy Ringleaders Meet at 8 o'Clock

T7 Ep13

-

Luffy VS Vivi! A Tearful Vow For Nakama!

T7 Ep14

-

The Arabasta War Front! City of Dreams, Rainbase

T7 Ep15

-

Trap of Absolute End! Breaking into Rain Dinners

T7 Ep16

-

Operation Utopia Commences! The Wave of Rebellion Begins to Move

T7 Ep17

-

The Fearsome Bananawani and Mr. Prince!

T7 Ep18

-

The Key to Turning the Tide and a Great Escape! Doru Doru Ball!

T7 Ep19

-

Merciless Fight to the Death! Luffy VS Crocodile

T7 Ep20

-

The Miracle Sprint! Arabasta Animal Land
---
Gêneros
Comédia
,

Ação & Aventura
,

Animação
,

Drama
,

Fantasia
Cast
Sinopse
The G-8 Arc is the fifth filler arc in the One Piece anime. It comes after the end of the Sky Island Saga where instead of splashing down in the open sea, the Going Merry is trapped within the enclosed and heavily fortified waters of a marine base, where the crew must scatter to survive before attempting to retake their ship and escape. The Long Ring Long Land Arc, also referred to as the Davy Back Fight Arc or Foxy Arc, is the fourteenth story arc in the series, and the first in the Water 7 Saga of the manga and anime, One Piece. It is also the first arc to be aired on Adult Swim's newly revised Toonami block. It focuses around a contest between the Straw Hat Pirates and the Foxy Pirates, called the "Davy Back Fight". It is also the setting of the fight between Admiral Aokiji and Monkey D. Luffy. Long Ring Long Land is the seventh island the Straw Hat Pirates encounter on the Grand Line.
Assistir One Piece Temporada 7
"One Piece - Temporada 7" em breve disponível novamente.