Tytuł Oryginalny: The Irishman
Oglądaj Teraz
Irlandczyk - streaming: gdzie obejrzeć online?
Currently you are able to watch "Irlandczyk" streaming on Netflix.
Opis
"Irlandczyk" to osadzona w powojennej Ameryce epicka opowieść widziana oczami weterana II wojny światowej Franka Sheerana, oszusta i płatnego mordercy pracującego dla najbardziej osławionych przestępców XX wieku. Rozgrywająca się na przestrzeni kilkudziesięciu lat saga poświęcona jest jednej z największych zagadek kryminalnych w historii Stanów Zjednoczonych – tajemniczemu zaginięciu legendarnego przywódcy związków zawodowych Jimmy'ego Hoffa. Widzowie wezmą udział w brutalnej podróży, podczas której zostaną przed nimi odsłonięte kulisy funkcjonowania przestępczego półświatka, wewnętrznych walk o wpływy oraz kryminalnych powiązań ze światem polityki.
Wideo: Trailery, Teasery, Bonusy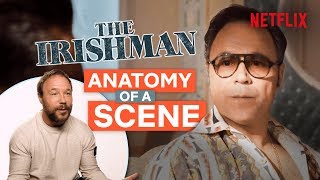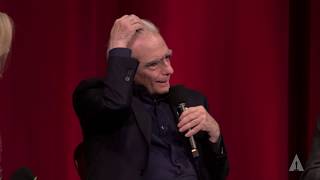 Kraj produkcji
Stany Zjednoczone
Obsada
Stephen Graham
Anthony 'Tony Pro' Provenzano
Daniel H. Jenkins
E. Howard 'Big Ears' Hunt
Patrick Gallo
Anthony 'Tony Jack' Giacalone
Joseph Riccobene
Jimmy 'The Weasel' Fratianno
Vinny Vella
Meat Company Yard Manager
John Cenatiempo
Anthony 'Tony 3 Fingers' Castellito
Frank Pietrangolare
Bartender - Friendly Lounge
Frank Aquilino
Friendly Lounge Guy 'Butchie'
Richard V. Licata
Judge - Frank's First Trial
Paul Borghese
Mobster #1 - Curtain Shop
Steven Maglio
Mobster #2 - Curtain Shop / Copa Guest #1
James Licata
Mobster #3 - Curtain Shop
James Ciccone
Anastasia's Mobster in Car #1
Ron Castellano
Anastasia's Mobster in Car #2
James Lorinz
Hoffa's Rally Teamster #1
Jeffrey Paul
Hoffa's Rally Teamster #2
Robert C. Kirk
Hoffa's Rally Teamster #3
Steve Routman
Hoffa's Attorney - George Fitzgerald
Peter Claymore
Tough Teamster - Hoffa's Office
Jack Caruso
Swanson's Booking Detective
Lori Arkin
Gallo's Sister - Carmella Fiorello
Samantha Coppola
Pete the Greek's Girlfriend
Mark Fairchild
Attorney General Mitchell
Peter Jay Fernandez
NAACP President Cecil Moore
Stephen Mailer
District Attorney Emmett Fitzpatrick
Barbara Eyland
Guest Dancing at Casino #1
Tracy J. Everitt
Guest Dancing at Casino #2
Bill Timoney
Prosecutor - Frank's 2nd Trial
Thomas J. McDonald
Deputy Clerk - Frank's 2nd Trial
Craig 'Radioman' Castaldo
Dean Ciallella
Italian Rally Supporter (uncredited)
Tommy Bayiokos
Truck Driver (uncredited)
Rick Bolander
Lewisburg Guard (uncredited)
Ian Zelbo
Brother in Ice Cream Parlor (uncredited)
Popular movies coming soon