JustWatch uses exclusive first party data for trailer advertising campaigns for the movie industry. Our campaigns are more than twice as effective as the industry benchmark from Google and Facebook.
We collect exclusive first party data from the millions of cinema goers who interact with our website and mobile apps. The information is gathered by tracking user behaviour whilst using our platform as well as via surveys. We have anonymous user profiles in over 30 countries, which we use to retarget users in our trailer campaigns. These user profiles tell us each individual user's movie preference, most used VOD service, cinema spending behavior, and 'definite interest' to watch certain movies at the cinema.
The main functions of our app are showing users what's playing at the cinema or where to legally watch movies and TV shows online. It is when users are interacting with these features that we anonymously collect most of our data.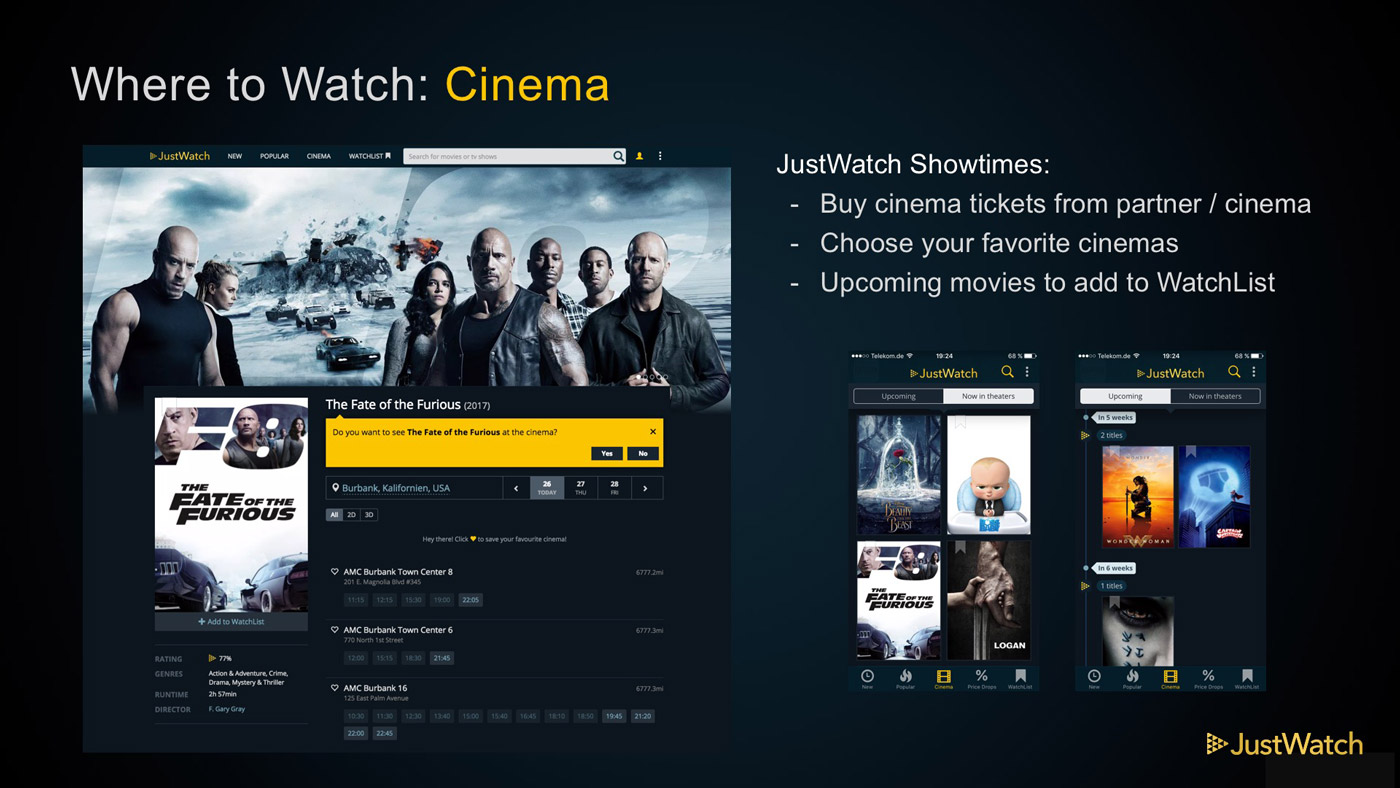 We do not require user accounts or login information to collect our data. Every time somebody visits our website, or opens our app we anonymously track their behaviour via cookies or the mobile advertiser ID in order to build a 'MovieGraph' user profile:
As of June 2017 we have over 75 million MovieGraph profiles: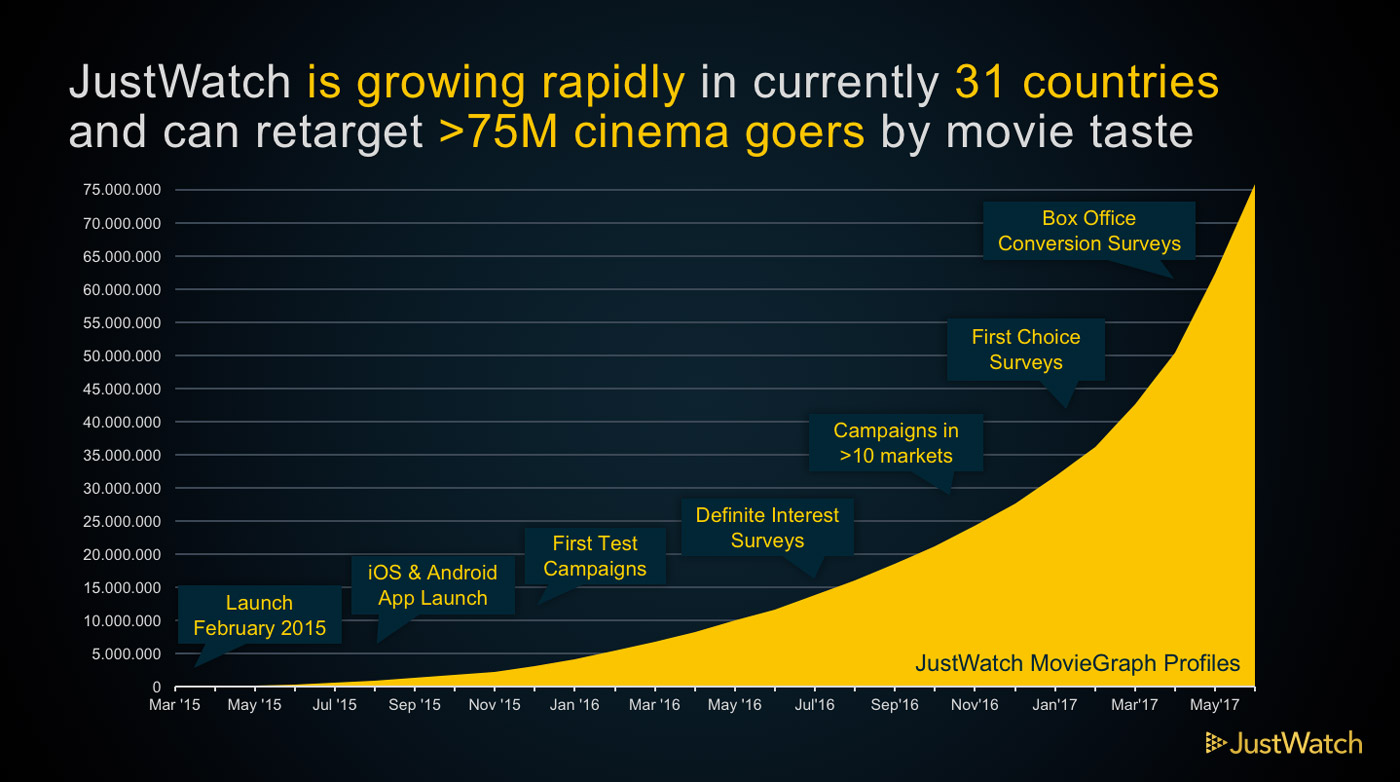 Worldwide, 10-20% of the population are power users - people who are responsible for the majority of the box office revenue and home entertainment spending. This is why JustWatch has tailored its apps to be loved by movie and TV show power users. The below graphs show the result of a survey conducted by the MPAA vs a survey that we asked over 200,000 of our users in the US alone.
The MPAA survey showed that 11% of the US population are power users and go to the cinema more than 12 times per year, contributing to 48% of all cinema ticket sales. Our survey showed us that 80% of our users go the the cinema and that 36% of them are power users.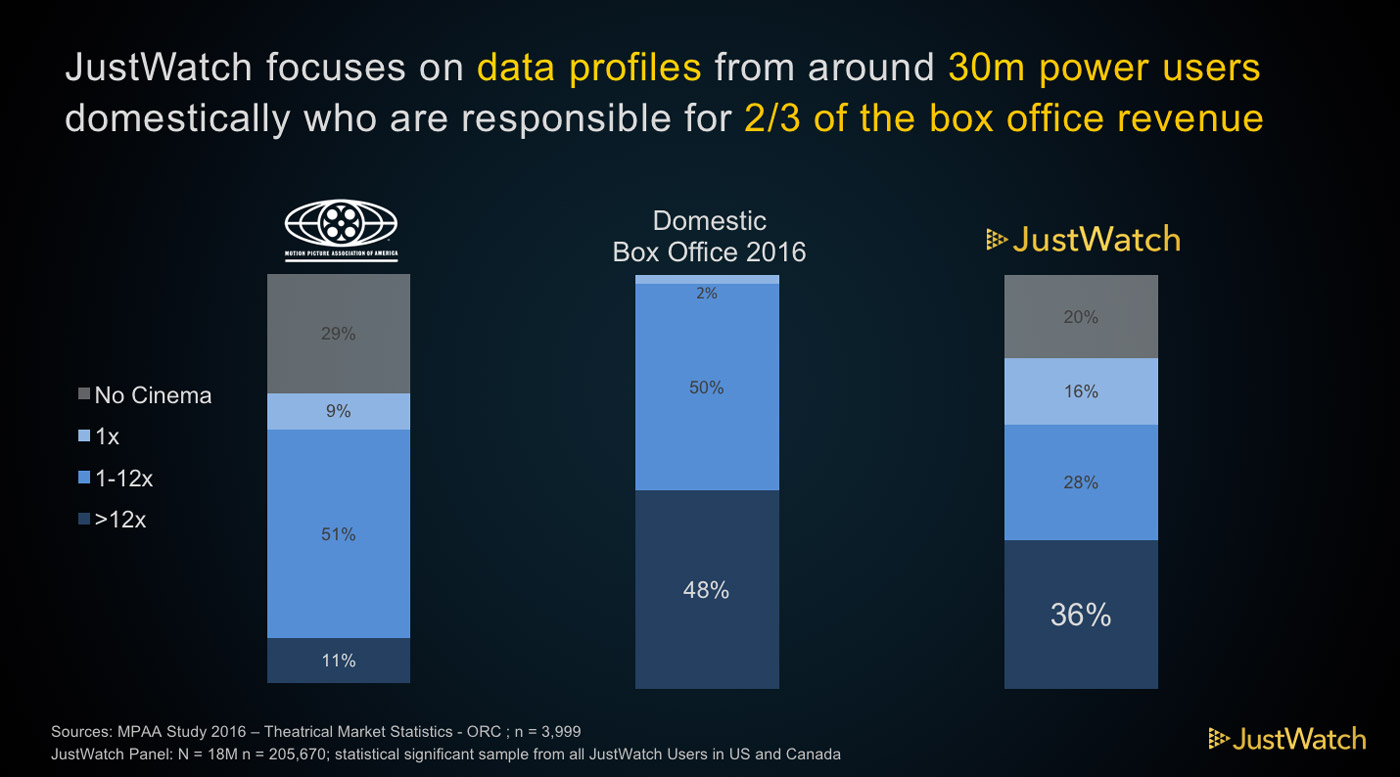 For each movie campaign, the JustWatch campaign experts segment different audience clusters from our DMP (Data Management Platform) who are most likely to engage with the trailer and go to the cinema:
All users who fit into these clusters are retargeted by our private DSP (Demand Side Platform) with the movie trailers suiting their taste while they are on YouTube, Facebook etc. The result of our campaigns is that users are shown content that is relevant to them and that our clients' trailers are reaching exactly the right people - the one's who have a 'definite interest' in buying a ticket at the cinema.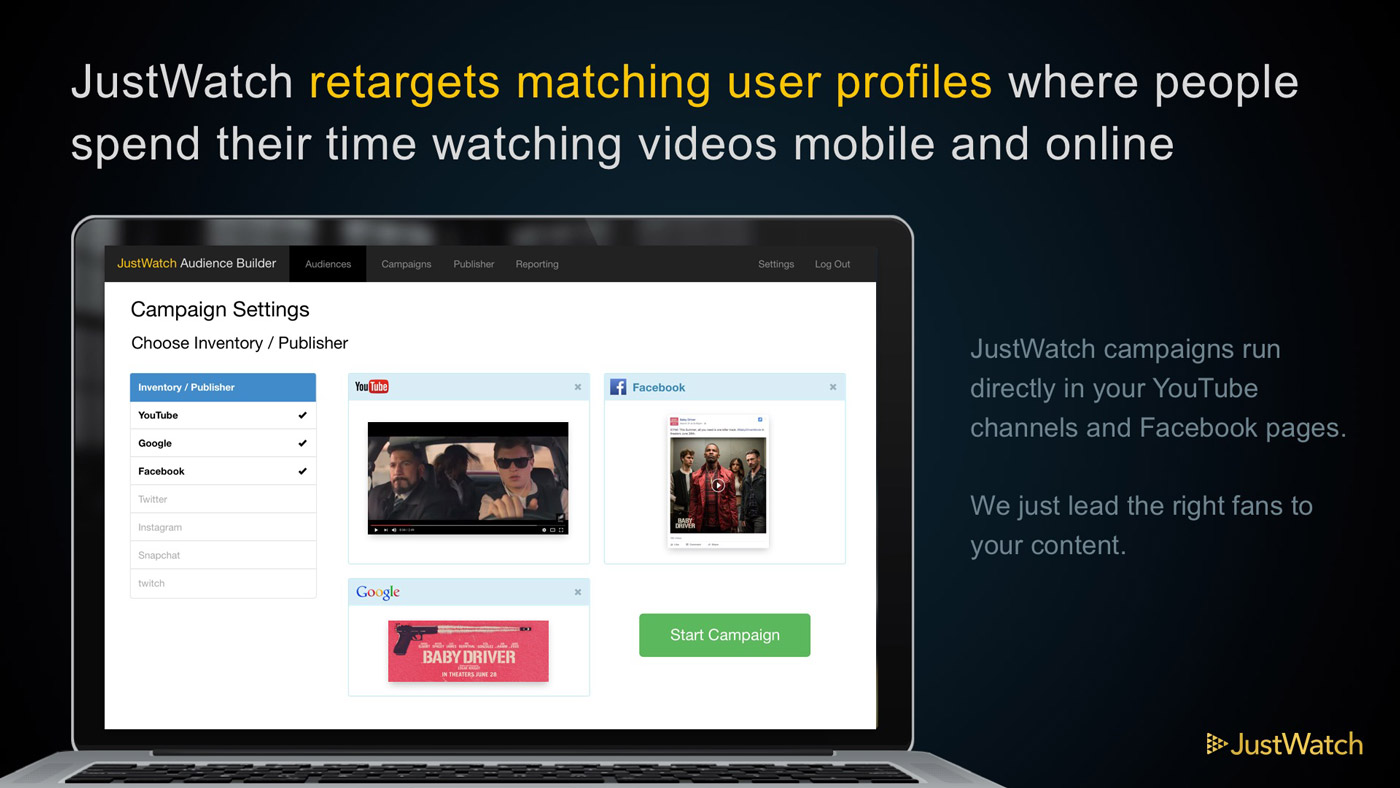 Compared to the Google and Facebook industry benchmarks, JustWatch campaigns are in average more than twice as effective (Google/YouTube: Q4 2016, TrueViews for movie marketing campaigns of the whole industry. Avg. 96 seconds trailer. - Facebook: 2015/16, 3s views for movie marketing campaigns of the whole industry. Avg 92 seconds trailer.)
Additionally JustWatch is able to optimize the campaigns based on the actual 'definite interest' of different audience clusters. Gathered through the built in market research in every campaign.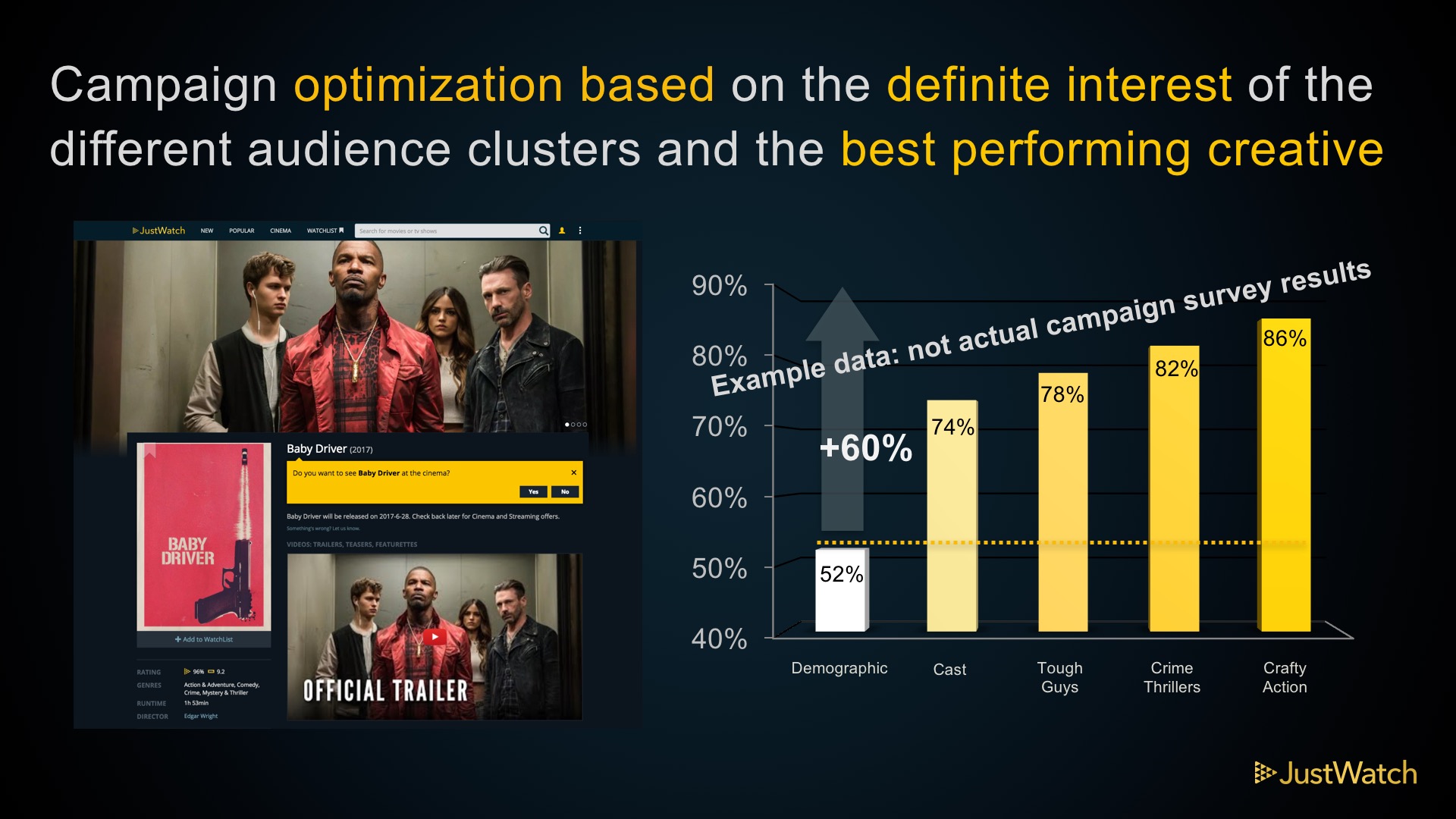 JustWatch can also do 'Box Office Conversion Surveys' after the theatrical release to see how many of those users with a definite interest to watch a movie actually went to the cinema in the end.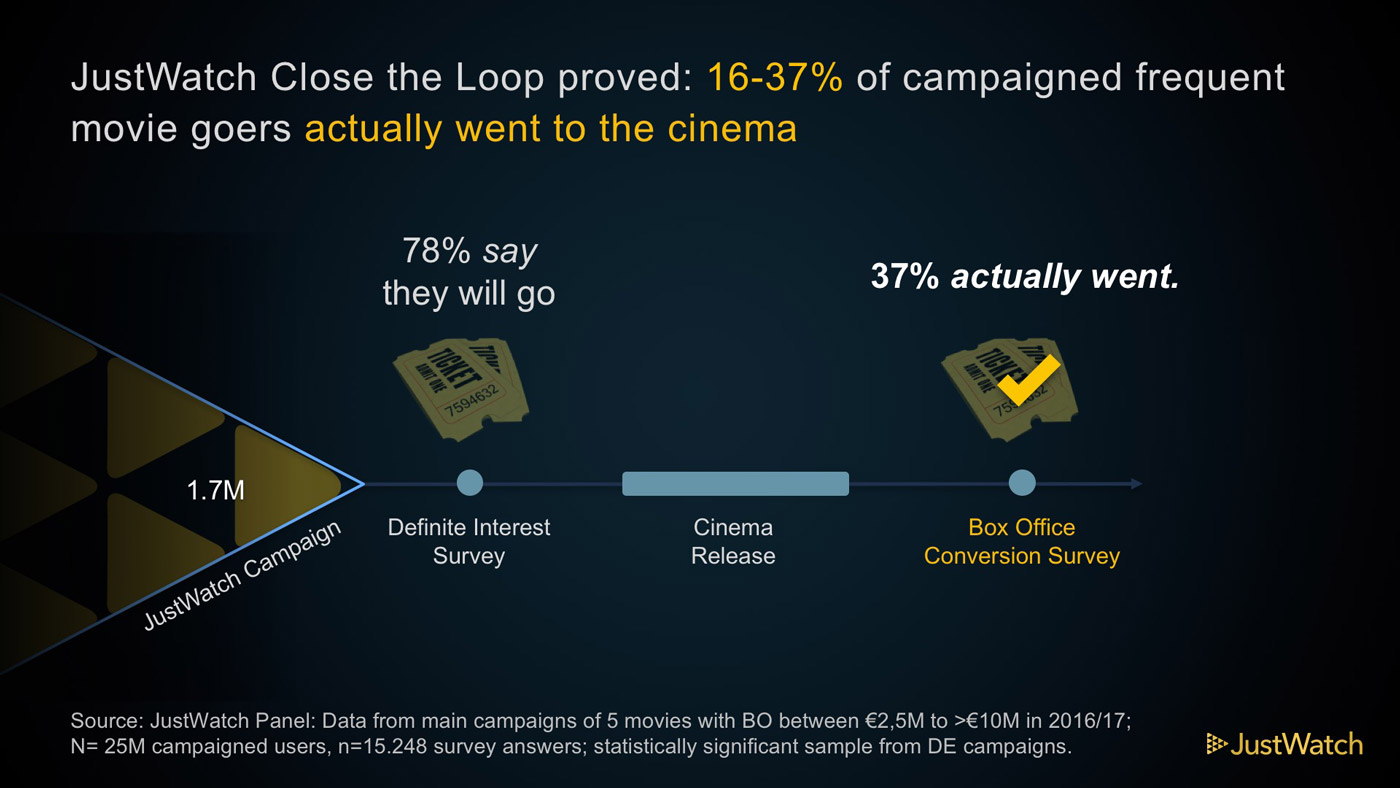 Contact us to learn more how JustWatch campaigns can reach the right audience for your theatrical start, home entertainment release or VOD service. Worldwide, on scale.
GET IN TOUCH WITH US