Coming soon
November 24, 2022
6 weeks left
Synopsis
Fifteen years after the events of Enchanted, Giselle, Robert and Morgan move to the suburbs in Monroeville. Their happily ever after is rudely disrupted by Malvina Monroe – a woman with a wicked plan for her new neighbours. Their troubled introduction to the suburbs leads Giselle to make a wish for the perfect fairytale life. This decision quickly spirals out of control, putting everything she cares for in danger. Giselle must now save her family and protect the Kingdom of Andalasia before the stroke of midnight.
What to know
Disenchanted is an upcoming musical fantasy comedy written and directed by Adam Shankman and produced by Disney+.
Disenchanted is a direct sequel to the blockbuster Enchanted, and will explore the lives of its characters 15 years after the events of the first movie. Giselle, played by Amy Adams, was lucky enough to get her happily ever after…but her ideal life is in serious trouble when a wish she makes goes terribly wrong.
Joining Adams in the sequel are Patrick Dempsey, James Marsden, and Idina Menzel, all of whom were in the original film.
Where can I stream Disenchanted?
Disenchanted will be available for streaming worldwide on Disney+ on November 24, 2022.
Production: Timeline, news & updates
July 1, 2014: Disney hires J. David Stern and David N. Weiss to write a sequel to Enchanted. (Source: Deadline Hollywood)
October 7, 2016: Adam Schenkman enters negotiations to direct the sequel and Amy Adams will be reprising her role. (Source: The Hollywood Reporter)
May 21, 2019: The sequel has yet to be greenlit by Disney who are not completely satisfied with the script. (Source: YouTube)
December 10, 2020: Disney finally anounces the sequel on Disney Investor Day. It was thanks to the work of Brigitte Hales, the most recent writer added to the project, who was able to interest Disney enough to greenlight the movie after 14 years. (Source: Deadline Hollywood)
September 9, 2022: The first trailer for Disenchanted is released. The clip premiered at Disney's D23. (Source: Deadline)
Videos: Trailers, Teasers, Featurettes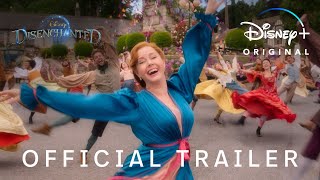 ---
Genres
Fantasy
,

Kids & Family
,

Romance
,

Animation
,

Comedy
Disenchanted streaming: where to watch online?
Disenchanted will be available to stream on Disney Plus from November 24, 2022.