Building JustWatch, Part 2: Audience as a Service
December 6, 2017

This post is part of a series on building JustWatch.
Find the other posts here: Part 1: A company culture that really works, Part 2: Audience as a Service, Part 3: to be announced
Introduction
This is the second post in a three post series about the building of JustWatch. The first post addressed our culture and core values and in this post, I write about what we actually do, where the whole idea for JustWatch came from and the team behind it. Since launching in 2015, our apps are being used by tens of millions of users and are live in 32 countries. We broke-even for the first time in 2016 and have generated millions in revenue. Some of our main clients include Sony Pictures, Universal Pictures, Paramount and 20th Century Fox.
What we do (in a nutshell)
JustWatch has two sides: What we do for movie fans (B2C) and what we do for movie studios and distributors (B2B):
B2C (Movie fans): We run a streaming search engine and a cinema showtime finder to help movie and TV show fans find where they can watch their favorite content, legally. We tell users everything from what's new on Netflix and where one can rent or buy the new season of a TV show, to what's playing in their favorite cinema and where they can buy tickets. Users access our service via our website (justwatch.com) or our iOS and Android apps. (find out more)
B2B (Movie studios): We collect anonymous user data from more than 100 million movie and TV show fans and counting. This data includes their individual movie taste (favorite genres, actors, directors) and purchase behavior (cinema going rate, favorite cinema, frequented streaming providers). With these data profiles we run highly efficient trailer advertising campaigns for movie studios by retargeting these users on YouTube, Facebook and other platforms with trailers that they are likely to engage with. (find out more)
It may come as a surprise that our main revenue source is not advertising on our apps and website, but these are just the tip of the iceberg for JustWatch. In fact, 80% of the work is done behind the scenes on our B2B side where we use data and technology on our mission to be the leaders in the next generation of movie marketing.
In order to fully understand JustWatch, let's go back to where the idea came from and how it has developed until today.
Where did the idea of JustWatch come from?
There is often the notion, that somebody has a lightbulb moment of clarity and that this is where all great ideas come from. Not so with JustWatch. For me it was more of a long ideation process that has a lot to do with who I am, what I love to do, what I know about and what experiences I have had over time. I am going to give you some background about myself and my experiences in order to show you how the idea of JustWatch developed. It stems from a combination of my passion for movies, my interest in technology and my entrepreneurial drive to optimize, which in turn led me to the marketing and advertising industry.
My passion for movies and entrepreneurship
When I was a kid I wasn't really allowed to watch movies. We didn't have a TV for a long time and didn't have the money to go to the movies often. So I read a ton of books and comics. I always liked stories about clever people using technology to do something in a totally new way. In particular I like the notion of characters changing the status quo with innovation and new ideas.
I may have overcompensated my movie-less youth as I grew up, watching a huge amount of TV, VHS, DVDs and going to the cinema, sometimes even twice a day. While in school and later in university (studying architecture for a while) I always planned to start my own company and grow it really big.
Using the money I earned from my first job at 14 (a dishwasher in a restaurant), I bought my first computer and taught myself graphics programs and how to design and build websites. That lead me to make my first entrepreneurial money from web design for small local companies. I tried a lot of other ideas later, but they didn't work out or I wasn't ready for them yet.
When my brother moved in with me in my early 20s, we often watched movies and TV shows the whole night and slept in late for weeks. This lead to us deciding that we wanted to do something with movies.
Producing our first short film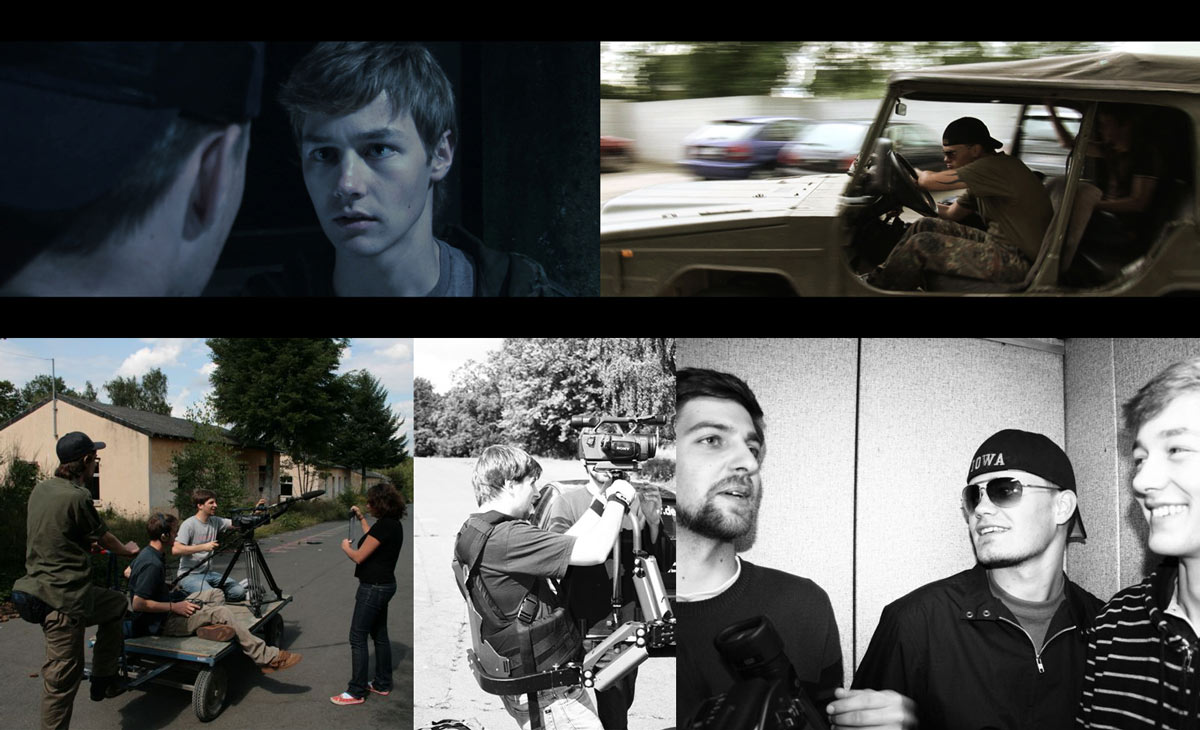 My brother said he actually wanted to do movies professionally as a career. I thought that there was no better way to learn about movies, than by shooting one ourselves. So we wrote a pretty crappy script, found some actors and helpers, convinced sponsors, got permits, camera and sound equipment and shot our first short film 3 months later.
We had a blast and we learned a lot. One thing that struck us very fast was that there is no money in short films and that it is also extremely hard for full length, low budget indie movies to earn money.
This was the first time I started to be involved with the business side of the movie industry. I learned pretty quickly that shooting a movie is not easy to pull off, even with movie grants, digital cameras and post-production. However, the successful distribution and promotion of a finished movie is actually the most difficult challenge.
So after a few more short films and some experience in the movie industry in Berlin, I decided to work and make money on the internet, in order to save up and fund movies later on.
First attempt at a startup
I incorporated my first real company (back then we didn't really refer to smaller businesses or projects as startups) together with two other people. We built a job search engine. My partner knew the industry, I did the design and frontend work and we had a backend guy who developed everything we needed from scratch.
After a few months the website was online, but the tech mantra "Build it and they will come" didn't work out for us at all. So I started to Google how to get visitors and discovered what SEO (search engine optimization) is and learned everything there was to know about it. Later I also learned about the basics of website monetization. It still didn't take off fast enough and my learning curve became pretty flat. Therefore I decided to find an early stage company with founders who had even bigger ambitions and more startup knowledge.
Steep learning curve at kaufDA
I methodically went through startup directories from A-Z and under 'K' I found a startup called kaufDA (directly translated: buyTHERE). They had just launched their website which aggregated the weekly ads and circulars of local retailers, digitally. These are the circulars that you would never read and would just clog up your post box. The way they described kaufDA and what kind of entrepreneurial people they were looking for somehow struck a nerve with me and I wanted to find out more.
I immediately wrote them a mail and was invited to talk to the founders a day later. They had put their website online a few weeks before and had the same problem I had had earlier. They had no visitors, but heard from their business angels that they could solve this problem with SEO (search engine optimization).
I originally told them I just wanted to work for them for 3-6 months to learn as much as possible and then start my own company again. I started a week later as a freelancer for 500€ a month and ended up staying with them for 5 ½ years!
On my first day I was given a team of about 4 business interns and the goal to bring as many visitors to the website as possible. We grew the site from nearly 0 visitors to over 5 million visitors in less than a year, without any marketing budget. With this big reach we were quickly able to sell advertising to big retail chains.
The greatest aspect of the advertising was to use a 'cost per engagement' model as opposed to the normal 'cost per thousand impressions' model. This meant retailers paid us only for the actual opening of their circulars and this created a lot more value for them.
My main job was to get as many people to open the right circulars as possible. So after growing the site broadly with SEO the next step was to build a traffic management team and campaigning team to run advertising campaigns mostly on Google Adwords to find the people who were most relevant to a particular ad. E.g. Find the 5 people searching on Google for "Rasenkantensteine in Heilbronn" (some specific stones for your garden in a little town in Germany) and point them to the right page on the right circular for a special deal for Rasenkantensteine in Heilbronn.
I was often surprised as to why so many people wanted to look at these advertisement circulars on purpose. We had hundreds of millions of visits from people flipping through them like crazy.
I asked myself why most people see them as spam in their mailbox and throw them away (over 70% of people in cities according to the studies back then), but browse through them voluntarily online.
The answer was pretty simple: At home you got a big stack of circulars with irrelevant information at a time in the week you probably are not exactly planning your next shopping trip. But online, the consumer is in control. The model changed from spammy advertising pushed down people's throats when the advertiser decides, to a pull for specific and relevant information exactly when shoppers want it and plan their next purchase.
This meant that if we were able to find the right shoppers at the right moment and show them exactly what they were looking for, we could turn these usually annoying ads into relevant content for them.
How we scaled kaufDA internationally
I figured I couldn't scale this manually, even with 5 newly hired people. We needed the help of technology. This was the beginning of "the shadow IT", as the kaufDA CTO liked to call it. I hired some developers and data guys and we built one of the biggest Google Adwords setups in Germany with over 50 million keyword combinations with automatic optimization and campaign steering for over 1000 cities.
Additionally we grew a big partner network with some of the biggest websites and later also apps in Germany showing our circulars. Later on, my JustWatch co-founder Christoph and I built one of the best mobile marketing teams worldwide. We shifted kaufDA from 100% website traffic & revenue in Germany, to over 90% mobile app revenue in 6 countries. Before companies like adjust, or AppsFlyer made app download attribution easy we built our own download tracking. We built a data warehouse to analyse our data with the new business intelligence team and segmented the data with the CRM team for app retargeting and churn prevention with automated push notification campaigns. We were one of the biggest advertisers on Google and Facebook and built a lot of marketing automation and advertising technology on top of this. kaufDA was and still is one of the biggest success stories in the Berlin startup scene. Probably not that well known, because the product isn't that sexy and targeted at slightly older people than the normal startup crowd. But with a $35 billion market to disrupt that still relies on newspaper distribution of their ads. It was really hard to get investments at the end of 2008, but the founders were able to convince some well known and successful business angels first and later E-Ventures and T-Ventures as lead VCs. Just after reaching profitability a bit more than 2 years in, Axel Springer acquired 74,9% of kaufDA for over 20 million euros. The next steps were to internationalize and grow the company ten folds in revenue and profits and even buy some companies in the location based services area.
The 5 ½ years were a great trip for me. I was at the heart of a company going from really scrappy startup to a successful and highly profitable category creator. I learned how to grow a startup through different phases, how to build and lead a team of over 50 people in offices around the world and how to build world leading advertising and data technology.
JustWatch seed is planted
Coming back to the idea of JustWatch: When I was not working my ass off, I was watching movies and didn't forget about my passion for the industry. My first idea for a startup in the space was "Cinema on Demand". I wanted to watch some of my favorite older movies on the big screen again. I watched so many movies in the cinema, that I often had to wait until new movies were starting that I'm interested in. Therefore I thought about, what if enough people come together and commit to buying a ticket for a specific movie, date and cinema, so that this is a good business with guaranteed revenue for the cinemas. After quickly Googling it, I found that - as almost always - others had already had the same idea. There was a small project in Brazil who had a small catalogue of movies to chose from and were more like a travelling circus carrying around the analog movie copies. And it seemed they never got enough people committed for one movie, date and cinema.
Even great ideas are only worth something at all if the timing and team is right and when done with great passion.
I thought there were two ingredients missing to make it work. First, the costs of an analog copy of a movie is easily 3000€ and the logistics are complicated, so it was better to wait for the inevitable digitization of cinemas a few years later. Secondly, you need direct access to a big amount of cinema goers around a cinema with the same movie taste. This understanding lead me to stay at kaufDA and think more about what kind of service, or app, I could build to find more like-minded movie fans that match this criteria.
JustWatch starts to develop
In 2011, after I started using Netflix and Hulu, I ran into the same two problems again and again. What should I watch tonight and where can I watch it? I started to think about building something like a streaming search engine for legal services - instead of the illegal sites that searched torrents, or one-click-hosters and streaming sites. When you watch as much as I do, you also quickly get the feeling you have watched Netflix empty already and a feature that shows you what's newly been added to your streaming services gets really handy. I quickly realized what's new beats the best movie recommendation systems that show you your favorite old movies again and again. So, the idea of the B2C side of JustWatch was getting clearer and clearer. Extensive research of the industry and especially what the movie fans in the most mature streaming markets were doing, led me to a few small services, mostly side projects of developers or agencies who were already doing some of the things. My knowledge of online business models and monetization possibilities told me quickly that banner ads and affiliate partnerships alone would be barely enough for the server costs and maybe 1-2 developers. But I didn't plan to run it as a small side project.
My experience with kaufDA showed me, that people would even voluntarily watch advertisement if it is only relevant to them. This should be even easier with movie trailers - the ad spots of the movie industry. I often asked myself why I almost never see ads for movies on websites, even though I'm spending most of my days online. I often have the problem, that I see a great trailer of a new movie several months before the theatrical start and then forget about it. That means, that I often miss it in cinemas and therefore have to wait for at least 3 months to be able to buy it legally. I thought trailer ads targeted at my personal movie taste would be a great recommendation engine to learn about new movies and some banner ads a great reminder to not forget to buy a ticket on the starting weekend. However such a machine is not easy to build. The tools for retargeting millions of people were still pretty new and mostly focused on e-commerce banner ads… so I decided to use this technology for movie marketing.
In short the idea was: Build an app for movie power users and use the data to run highly targeted retargeting campaigns for movie studios.
This is how I had the JustWatch idea. Easy right? Now you can stop reading those articles how to find the next big startup idea in 5 minutes ;-)
Of course this is was not enough for me to start a company right away. First I needed to do my homework and research the industry and try to prove my concept.
Research, concept and prototype phase
Now that I had a rough idea I wanted to validate if it was a good one and if I really wanted to spend the next years of my life building it. A series of questions popped into my head, for instance:
For B2C:
How many of those power movie and TV show fans are out there?
Is the 'where to watch' part a real pain point for them?
What kind of and how many competitors are out there?
Is every country completely different in where and what they watch?
Where do I get all the multilingual metadata like posters, descriptions, etc. from?
For B2B:
What is the reason that I almost never get movie ads online?
How is the industry marketing their movies at the moment?
How big is the industry overall and what are the current trends?
How do the marketing teams track and understand efficiency of campaigns?
Is there a common KPI, or marketing currency to benchmark against?
How much of the budgets are spent online, vs. TV, out of home and print?
How big are the perceived pain points in the changing movie industry already?
And many many more. I started to read a lot, contact people from the movie industry and meet for lunch or coffee. The picture got clearer and clearer how to do the apps and the advertising technology stack behind it. Regarding the industry and what they were doing, it was not so clear but I learned early on that everything is a bit fuzzy and it is a lot about the art of branding and awareness and less about data and facts. What I heard the most was: "Every movie is different. You can't compare them." and "The German market is totally different." There was also the opinion that there are at least three totally independent groups of movie fans. The ones going to the cinema. The ones buying DVDs and Blu Ray and the few digital ones. Sometimes buying or renting a movie and often pirating them on illegal sites. But I will get into more depth on this topics in the third post of building JustWatch.
Proof of concept: Advertising Test
Early in 2014, I wanted to test the basic hypothesis that you can make movie campaigns a lot better, if you can target fans by their individual movie taste instead of their age, gender, or if they are overall interested in movies.
The easiest and fastest test setup was that we were able to put different Google retargeting cookies (categorized by genre) on a German movie website. Every time somebody e.g. read an article about Iron Man, we "tagged" him into the list Action and Actions-SciFi. After a few weeks we had several hundred thousands of movie fans categorized in genre retargeting lists in our Google account. We then choose the next X-Men movie for a little test campaign. We built a landing page and a set of banners and started an A/B test between around 60.000 Action-SciFi fans from our list and the Movie Fan Interest Targeting from Google. After two weeks and several hundred Euros we had enough data to have statistically significant results. The result even surprised us a little bit. The click rates were more than 100% better with our rough data and on top over 40% better when it came to the visiting time on the landing page.
These results showed us that we were onto something and our next step was to perfect our business model and get feedback from potential clients to see if they would be interested.
I put a slide deck together with the advertising test results and the bigger idea of what we were planning to build. I then cold emailed some marketing people at movie studios, asking them if they wanted to meet with me. The responses came in fast. The first one took just 30 minutes. It seemed like the timing was just right for the industry. So what did I tell them?
What 'next generation movie marketing' really is
Marketing movie trailers has changed drastically in recent history as the move from TV, out-of-home and print towards the internet is growing more and more rapidly every day. The trouble with advertising to individuals in this more fragmented mobile world is that it is far more difficult to capture the attention of users, as the user is in control and can choose to skip or block ads. This is especially true when they are not interested in what you are trying to show them. This fragmented mobile environment also presents a unique opportunity to make movie marketing a lot more efficient for advertisers and a lot less annoying for users. If you know the individual movie taste of someone and you can show him/her a new trailer that matches this taste, you evolve from annoying 'one size fits all' ads to individual content recommendations.
The goal of any movie launch campaign is to reach as many people as possible from the prior defined target audience - especially in the 2-3 weeks leading up to the starting weekend. The problem with big reach in a short timeframe is that it always comes with a huge waste coverage when trying to hit the right target audience. The value of absolute reach numbers of a certain website isn't that important anymore. It's all about finding the right target audience within all the websites they are visiting. This is what JustWatch does.
Worldwide, 10-20% of the population are cinema power users - people who are responsible for the majority of the box office revenue and home entertainment spending. This is why JustWatch has tailored its apps to be loved by movie and TV show power users.
Talking to potential clients
I pitched this to potential clients in Germany first and for this market we are talking about 6-8 million heavy cinema goers out of 82 million Germans, who are responsible for the bulk of the box office revenue. The majority of those 6-8 million heavy cinema goers are also already spending more than two thirds of their media time online, and this is still rising fast as mobile usage continues to grow. With access to the two biggest players Google (incl. YouTube and GDN) and Facebook alone, you can easily reach over 80% of the online population in our markets. We could prove with our Ad-test, that JustWatch can find the right ones and target them with the right content.
To summarize the pitch:
Learn with us:

Consumers are shifting their time to digital. This is a huge challenge for the industry but also a great opportunity to build new tools, use big data and learn together.

Save money:

Being able to reach heavy cinema goers by individual movie taste will cut waste coverage and make your movie marketing campaigns a lot more efficient.

ROI measurement:

The promise to use the data and build technology to measure and show clients the box office revenue result of their advertising budget so that they can measure the effectiveness of their campaigns.
Potential clients really liked this pitch and told us that if we could build this, they were in. I had the validation I needed to continue moving forward. The main question in their minds, however, was probably how we were going to build a website and app to attract millions of movie fans and a system to capture profiles and retarget users anywhere on the internet. My answer was to say we already built a similar service during my time at kaufDA and together with the team I had in my mind at the time, we would pull it off. The next step, therefore, was to convince this team to leave their secure and high-paying jobs, and join me in building JustWatch.
The Co-founders
Armed with the results of the original A/B test and the validation I received from the potential clients, I was able to assemble the perfect team I had been planning in my head for a long time.
There are many moving parts in JustWatch that have to click together smoothly in order to work. These moving parts can best be divided into 5 areas of responsibility, each to be lead by a separate co-founder. These areas and the founders who lead them are:
Product and Content (Kevin Hiller)

Kevin is in charge of the team that is designing and developing the website and apps. This also means the content team that is making sure we have the data of all the streaming and cinema providers as correct as possible around the world.
We had already worked together at kaufDA for a few years and I knew, that Kevin is one of the best allrounders when it comes to design, rapid prototyping of new features, A/B testing and overall product concepts to build power user tools for movies and TV show fans.

Marketing, Data and Campaigning (Christoph Hoyer)

Christoph's responsibility is growing our user base, that we make sense of the data with our business intelligence team and that we are able to use the data to run the best digital movie marketing campaigns.
I also worked with Christoph at kaufDA for years where he lead the mobile marketing team with millions in advertising budget. He was able to get us on the top of the app store charts in every country. He was also in charge of the advertising tool development team and instrumental for the CRM and BI teams.

Finance and Operations (Michael Wilken)

Michael's job, in short, is to ensure that everyone else can actually do theirs. He is in charge of the business and legal foundation of the company, as well as day to day operations and last but not least talent.
Michael was the CFO of kaufDA and I worked closely with him in the core management team. He was in charge of everything financial and legal and was running a very complex construct of different joint ventures from Russia to Brazil and the US. He also did investor relations and was heavily involved in the kaufDA exit to Axel Springer as well as acquisitions of other startups.

Infrastructure and Technology (Dominik Raute)

Dominik's responsibility is comparable to Michael in the way that he is critical for the day to day functioning of JustWatch. He and his team design, maintain and scale the technology foundation of JustWatch's website with tens of millions of users, a data management platform with way over a billion tracking events and all the advertising and tracking technology needed for our campaign team.
Dominik has a lot of experience with big data, real time systems and advertising technology from his jobs at Zanox, Trademob and MyVideo where he was designing and building some of the biggest and most advanced adtech and analytics systems.

Revenue and Business Development (Ingke Weimert)

Ingke is in charge of the client side. She makes sure that everybody who should know what we are doing does and is able to work with us.
She has been working with the movie industry in Germany and the US for over 15 years. First in selling TV ads for NBCUniversal and ProSieben, then as the Head of Sales and later Head of MoviePilot, the biggest movie platform in Germany, where she made them highly profitable and helped to sell MoviePilot Germany to the Webedia group. With the rapid advances in digital, she has always felt that there is an even better way to reach the right consumers and build a better product with data and technology for her clients.
Now that the team was put together, we met about how we were going to work and how we were going to execute our plan, as quickly as possible.
Day 1 of JustWatch
We found a little room as subtenant of a SEO agency and started working according to the JustWatch plan:
Build and launch the website as fast as possible (change name from 'MovieCycle').
Build the anonymous user tracking and get millions of users.
Go out on a first sales roadshow (at first Germany only).
Build the campaigning tools to run test campaigns with our data.
Run campaigns and validate that every piece of the puzzle works.
Decide on the Series A funding round (VC vs. technology grants and loans).
Build out the technology stack, app, teams and structure as a strong foundation for growth.
Launch in all important box office markets, do international roadshows (esp. LA).
Acquire the first international clients and do campaigns from the US to Japan.
Be able to scale everything internationally.
So far, we've ticked all the boxes and are on our way into the next stage of JustWatch.
In the next post I will write about how we got there, what we learned about the movie industry and where we plan to go from here.
David Croyé
Founder and CEO - JustWatch
---
We are always looking to find more, like-minded people to work with us at JustWatch (We are hiring). If what you just read relates to you, we would love to hear from you.
The first post focuses mainly on our culture and how our core values came into place. The next post will be about our view on the rapidly changing movie industry.
And there are more stories to be told. Be sure to follow us on LinkedIn, Twitter or Facebook for updates.