Synopsis
When a young white boy befriends a black classmate in 1980s New York, he soon learns the consequences in a very casually racist environment. Paul has to cut ties with Johnny and is shipped to another school his family believes will shape him into the kind of man they want him to be. The only one guiding Paul to better understand the world and how to be empathetic and compassionate is his grandfather Aaron. His grandpa teaches him the importance of standing up for what's right, no matter how unpopular an act it may be.
What to know
Armageddon Time is a period drama produced by RT pictures. The movie is written, directed, and executive produced by James Gray whose life served as the main inspiration for the plot. Gray grew up in Queens, New York as the child of a Russian Jewish family during a period of racial and political upheavals, including the election of the ultra conservative Ronald Reagan. Gray made his directorial debut with Little Odessa in 1994. The director has had 5 of his films compete for the Palme d'Or at the Cannes FIlm Festival. Armageddon Time premiered there and received a seven minute standing ovation.
Banks Repeta stars as Paul Graff in Armageddon Time. His parents Esther and Irving are played by Anne Hathaway and Jeremy Strong. Anthony Hopkins takes on the role of his grandfather Aaron. The film also stars Jaylin Webb as Johnny, Tovah Feldshuh, Richard Bekins, John Diel and Jessica Chastain. Armageddon Time was released in cinemas on November 4th 2022.
Production: Timeline, news & updates
May 19, 2019: James Gray announces he's working on a film based on his childhood in New York City. The film will be called Armageddon Time. (Source: Variety)
May 11, 2020: Cate Blanchett lands a role in the movie. (Source: Variety)
June 16, 2020: Robert De Niro, Oscar Isaac, Donald Sutherland and Anne Hathaway also join the project. (Source: Deadline)
October 12, 2021: Major cast shakeups include Anthony Hopkins replacing Robert De Niro in the role of Aaron Rabinowitz. Jeremy Strong will now take on the role of Paul's father Irving. Donald Sutherland and Cate Blanchett also leave the project. (Source: Deadline)
May 19, 2022: Armageddon Time premiers at the Cannes Film Festival and receives a standing ovation for seven minutes. (Source: Variety)
September 6, 2022: The official trailer for Armageddon Time hits the web. released. The friendship between Paul and Johnny plays a central role in the short clip but manages to show the mark the relationship left on the young Jewish boy. (Source: YouTube)
November 4, 2022: Armageddon Time was released in cinemas. (Source: Deadline)
Videos: Trailers, Teasers, Featurettes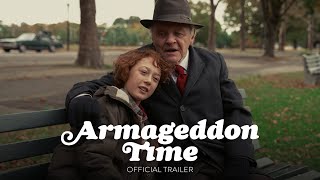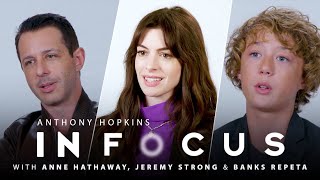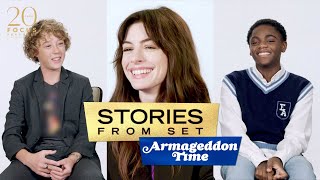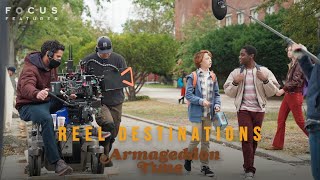 Armageddon Time streaming: where to watch online?
You can buy "Armageddon Time" on Apple iTunes, Amazon Video, Google Play Movies, YouTube, Vudu, Microsoft Store, Redbox, DIRECTV, AMC on Demand as download or rent it on Apple iTunes, Amazon Video, Google Play Movies, YouTube, Vudu, Microsoft Store, Redbox, DIRECTV, FlixFling, AMC on Demand, Spectrum On Demand online.