Teenage Mutant Ninja Turtles: Mutant Mayhem
(2023)
Watch Now
PROMOTED
Watch Now
Teenage Mutant Ninja Turtles: Mutant Mayhem - watch online: streaming, buy or rent
Currently you are able to watch "Teenage Mutant Ninja Turtles: Mutant Mayhem" streaming on Paramount Plus, Paramount Plus Apple TV Channel .
Synopsis
The teenage turtle brothers look for a way to win over the humans of New York City
The four young Teenage Mutant Ninja Turtle brothers just want to be normal teens accepted by the humans around them. As they set out to win hearts and minds around New York City with some good old vigilante acts, they realise they may have bitten off more than they can chew when faced with an army of mutants.
Videos: Trailers, Teasers, Featurettes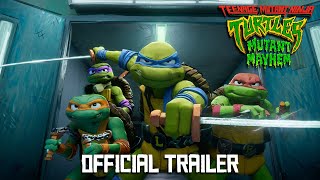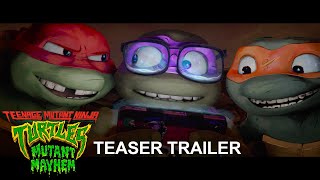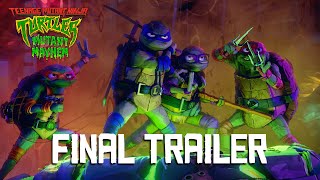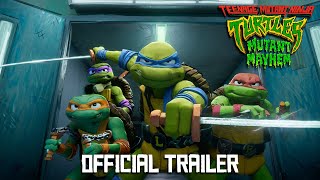 What to know
Seth Rogan produces a teen-centric TMNT film for Nickelodeon and Paramount Pictures
Teenage Mutant Ninja Turtles: Mutant Mayhem is an animated film produced by Point Grey Pictures and Nickelodeon Animation for Paramount Pictures. The film is based on Kevin Eastman and Peter Laird's classic Teenage Mutant Ninja Turtles comic books. The animated film is directed by Jeff Rowe, who makes his solo directorial debut after previously co-directing and writing The Mitchells vs. the Machines. Seth Rogen and Evan Goldberg co-write the screenplay, after collaborating on scripts for Pineapple Express and The Interview. Detective Pikachu writers Dan Hernandez and Benji Samit also contributed to the script.
The Turtles themselves are voiced by actual teenagers Micah Abbey, Shamon Brown Jr, Nicolas Cantu, and Brady Noon as Donatello, Michelangelo, Leonardo, and Raphael, respectively. The Turtles' friend April O'Neal is played by Ayo Edebiri. The rest of the star-studded ensemble cast includes legendary martial arts actor Jackie Chan as Splinter, Ice Cube as Superfly, and John Cena as Rocksteady, in addition to Paul Rudd, Maya Rudolph, Post Malone, Hannibal Buress, Ross Byrne, and Giancarlo Esposito.
Production News
2020-06-01

It is first reported that Nickelodeon is rebooting Teenage Mutant Ninja Turtles. Seth Rogen is on board to produce, and it will be CG animated. Paramount Pictures has the global distribution rights. (Source: Deadline)

2021-06-01

A release date of August 11, 2023 is announced, and Jeff Rowe is confirmed as director. (Source: Deadline)

2022-08-04

The film's official title is released with a logo. Plot details for Teenage Mutant Ninja Turtles: Mutant Mayhem are also given, stating the film will have a coming-of-age feel. (Source: Collider)

2023-03-04

The entire voice cast is confirmed, including Jackie Chan, Hannibal Buress, John Cena, Ayo Edebiri, and Ice Cube. For the first time in the history of the franchise, the Turtles will actually be voiced by teenagers. Their new voices are Micah Abbey, Shamon Brown Jr., Nicolas Cantu, and Brady Noon. (Source: Variety)

2023-03-06

In the first teaser trailer for the film, the Teenage Mutant Ninja Turtles mess about in New York City like any local teen before they are recruited to join a battle against a criminal entity. (Source: YouTube)

2023-04-05

Seth Rogen confirms much of the featured dialogue was improvised, as the voice actors recorded their lines in the same room, allowing them to riff off each other. Rogan first came across this technique while on the set of The Lion King. (Source: Yahoo!Movies)

2023-05-23

A new poster is released for the film, alongside the confirmation that the US release date was pushed ahead by two days to August 2, 2023. (Source: Collider)

2023-05-30

Trent Reznor and Atticus Ross will compose the score for TMNT: Mutant Mayhem. The duo previously created scores for Gone Girl, The Social Network, Soul, Bones and All, and The Girl with the Dragon Tattoo. (Source: The Playlist)

2023-07-17

A new featurette is released in which the cast and filmmakers discuss the importance of having actual teens voice the iconic turtles in the film. (Source: ScreenRant)

2023-07-27

The final trailer is released, showing the gang of young turtles teaming up while downing pizza, throwing quips, and looking for acceptance. (Source: YouTube)

2023-07-31

Teenage Mutant Ninja Turtles: Mutant Mayhem premieres in cinemas.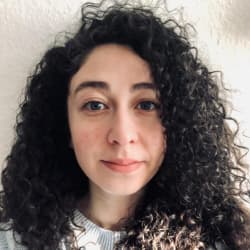 Alexandra Kon
Genres
Science-Fiction, Mystery & Thriller, Horror, Comedy, Kids & Family, Action & Adventure, Fantasy, Animation
Production country
Canada, United States, Japan
Cast
Danny Mastrogiorgio
Toupee Tom / Police Officer (voice)
Noel Gibson
Responding Police Officer / Military Advisor (voice)
Alex Hirsch
Bossy Goon / Scumbug (voice)
Michael Rianda
Paycheck Goon / Chop Shop Boss / Ratatouille Guard (voice)
Jeff Rowe
Man Who Loves Being Young and Free to Go Places (voice)
People who liked Teenage Mutant Ninja Turtles: Mutant Mayhem also liked
Science-Fiction movies coming soon
Latest news and curated lists related to Teenage Mutant Ninja Turtles: Mutant Mayhem