Doctor Strange in the Multiverse of Madness
(2022)
Synopsis
Doctor Strange's actions in Spider-Man: No Way Home have had extreme consequences across the universe. After playing with the fabric of reality, he has opened the door to the multiverse and must make things right again. Strange is joined by Wong and fellow Avenger Wanda Maximoff – better known as Scarlet Witch – as they attempt to prevent the imminent threat posed to reality as we know it.
What to know
Doctor Strange in the Multiverse of Madness is a superhero movie produced by Marvel Studios. The movie is inspired by the Marvel Comics character of the same name and takes place within the Marvel Cinematic Universe (MCU).
Benedict Cumberbatch reprises his role as Doctor Strange, having played the mind-bending superhero and Master of the Mystic Arts in several Marvel movies since 2016. This includes Dr. Strange, Thor: Ragnarok, Avengers: Infinity War, Avengers: Endgame and Spider-Man: No Way Home.
Elizabeth Olsen also returns to the MCU as Wanda Maximoff a.k.a. Scarlet Witch. The film takes place after the events of WandaVision, which saw Scarlet Witch use her powers to cope with the loss of her husband, Vision. Other returning actors include Chiwetel Ejiofor as Karl Mordo, Benedict Wong as Wong, and Rachel McAdams as Christine Palmer.
The movie is directed by Sam Raimi, the American filmmaker best known for helming the Spider-Man trilogy starring Tobey Maguire.
The mind-bending superhero sequel was released in theaters on May 6th, 2022. The world premiere took place on May 3, 2022 at the Dolby Theatre on Hollywood Boulevard.
Production: Timeline, news & updates
June 29, 2018: While discussing the importance of the Sorcerer Supreme in Avengers: Infinity War, President of Marvel Studios reveals that there will eventually be a sequel to Doctor Strange. However, the movie will not be released for several years. (Source: Cinemablend)
December 11, 2018: Scott Derrickson returns to direct the Doctor Strange sequel. Production is expected to begin in early 2020. (Source: HollywoodReporter)
July 20, 2019: Kevin Fiege speaks at San Diego Comic Con 2019, revealing the movie's official title: Doctor Strange in the Multiverse of Madness. Elizabeth Olsen will reprise her role as Wanda Maximoff in the superhero sequel as the movie has close ties to the character's Disney plus series, WandaVision.(Source: Marvel.com)
November 7, 2019: Disney CEO Bob Iger reveals that the Doctor Strange sequel will have a connection to Loki, the Disney plus show starring Tom Hiddleston. (Source: Bloomberg)
January 10, 2020: Scott Derrickson steps down as director. He has released the following statement: "Marvel and I have mutually agreed to part ways on Doctor Strange: In the Multiverse of Madness due to creative differences. I am thankful for our collaboration and will remain on as [Executive Producer]." (Source: Twitter)
April 3, 2020: Production is pushed back as a result of the COVID-19 pandemic. The release date moves to November 5, 2021. (Source: TheWaltDisneyCompany)
April 14, 2020: Sam Raimi, the acclaimed director known for the original Spider-Man trilogy, is tapped to direct Doctor Strange in the Multiverse of Madness. (Source: CNet)
April 24, 2020: Marvel reshuffles its release calendar: Spider-Man: No Way Home will now be released on November 5, 2021 instead of the Doctor Strange sequel. The Sorcerer Supreme is set to return to the big screen on March 25, 2022. (Source: Marvel.com)
November 20, 2020: The Hollywood Reporter states that production has begun. (Source: HollywoodReporter)
February 18, 2021: Acclaimed composer Danny Elfman announces that he will be creating the movie's score.(Source: Inverse)
October 18, 2021: The Marvel movie is given a new release date: May 6, 2022(Source: Marvel.com)
February 13, 2022: The first trailer for Sam Raimi's Doctor Strange in the Multiverse of Madness is released. It shows a tormented Doctor Strange waking up from a recurring nightmare. The titular character addresses the events of Spider-Man: No Way Home, where he cast a dangerous spell with disastrous consequences. Strange speaks with Wong and Wanda about the repercussions, which includes open passageways between universes.(Source: YouTube)
May 3, 2022: While attending the world premiere, lead actor Benedict Cumberbatch discusses working with horror-turned-superhero director Sam Raimi: "I think Sam's just got the combination of superhero-dom and horror, and that's what you'll see hopefully sort of being expressed in this film and the tone of it."
May 6, 2022: Doctor Strange in the Multiverse of Madness is released in cinemas in the U.S.
Videos: Trailers, Teasers, Featurettes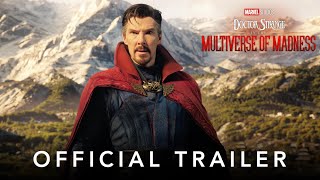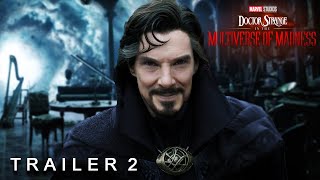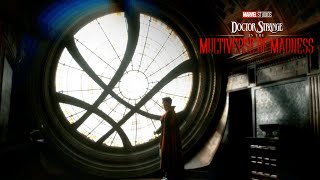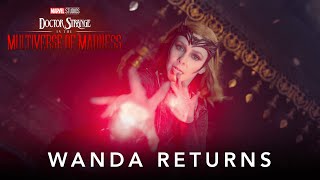 ---
Genres
Fantasy
,

Horror
,

Science-Fiction
,

Action & Adventure
Doctor Strange in the Multiverse of Madness streaming: where to watch online?
We try to add new providers constantly but we couldn't find an offer for "Doctor Strange in the Multiverse of Madness" online. Please come back again soon to check if there's something new.
People who liked Doctor Strange in the Multiverse of Madness also liked