Glass Onion: A Knives Out Mystery
(2022)
Glass Onion: A Knives Out Mystery streaming: where to watch online?
Currently you are able to watch "Glass Onion: A Knives Out Mystery" streaming on Netflix, Netflix basic with Ads.
Synopsis
Master detective Benoit Blanc returns to solve a murder mystery rife with twists, turns, and a barrel of laughs, this time in the mediterranean sun. With a slew of new characters and plenty of intrigue, Blanc will have to watch closely as the answer he's looking for may be hiding in plain sight. On a secluded Greek island tech billionaire, Miles Bron is planning a party for his friends. After gathering his closest companions to dine together and celebrate life, death strikes one of them and all are sudden suspects. Benoit Blanc will have to keep the tears to a minimum if he's going to peel back the layers of this mystery and find out who is responsible.
What to know
Glass Onion: A Knives Out Mystery is a murder mystery movie written and directed by Rian Johnson. It is a Netflix-produced sequel to Johnson's 2019 hit Knives Out. Glass Onion: A Knives Out Mystery has an all-star cast that includes the return of Daniel Craig as Benoit Blanc. He is joined by Janelle Monáe, Kathryn Hahn, Dave Bautista, Kate Hudson, Leslie Odom Jr. and Edward Norton.
Production: Timeline, news & updates
January 6, 2020: Following the success of Knives Out, Rian Johnson announces that he's working on a script to a sequel and that Daniel Craig has already signed on to reprise his role as Detective Benoit Blanc. (Source: The Hollywood Reporter)
May 13, 2021: Netflix strikes a deal with Rian Johnson to produce the next two sequels to Knives Out for 469 million dollars, beating out offers by Amazon and Apple.(Source: Variety)
July 1, 2021: Johnson confirms that Knives Out 2 will not be a continuation of the previous story and that it will instead focus on a new mystery featuring Benoit Blanc alongside different characters. The filmmaker likens the structure of the story to the Hercule Poirot stories by Agatha Christie. (Source: Indiewire)
June 13, 2022: Knives Out 2 is confirmed by director Rian Johnson to be titled Glass Onion: A Knives Out Mystery. (Source: Hollywood Reporter)
August 22, 2022: Glass Onion: A Knives Out Mystery is given a December 23rd 2022 release date by Netflix. New images are also revealed showing an expanded cast of Edward Norton, Janelle Monáe, Kathryn Hahn, Leslie Odom Jr., Jessica Henwick, Madelyn Cline, Kate Hudson and Dave Bautista.(Source: ScreenRant)
August 22, 2022: An official synopsis details more plot points including the setting and the reason that the ensemble cast are gathered. At the behest of a tech billionaire, the team assemble on a Greek island and are innocently enjoying life before tragedy strikes. (Source: Collider)
August 26, 2022: A new image of Daniel Craig as Benoit Blan is revealed showing the sleuth with sunglasses and a neckerchief.(Source:EMPIRE)
August 29, 2022: Various cast members are seen in conflict as a variety of new still images are released. A standout image is a showdown between Dave Bautista and Edward Norton. (Source: ScreenRant)
September 9, 2022: The first teaser trailer for the movie shows the brilliant ensemble cast baffled by the happenings on a remote island. (Source: Collider)
September 10, 2022: A new selection of still images are released with Janelle Monae, Edward Norton and Jessica Henwick highlighted. (Source: Collider)
September 24, 2022: Netflix releases and exclusive scene from the movie introduced by Rian Johnson. (Source: Deadline)
October 6, 2022: After rave reviews at the Toronto International Film Festival, the movie was given a cinematic release window between 23-29th November before a streaming release on December 23rd. (Source: Deadline)
December 12, 2022: Knives Out: Glass Onion received two nominations at the Golden Globes including Best Musical or Comedy and Best Performance by an Actor in a Musical or Comedy for Daniel Craig. (Source: The Playlist)
December 23, 2022: Glass Onion: A Knives Out Mystery was released on Netflix. (Source: Netflix)
Videos: Trailers, Teasers, Featurettes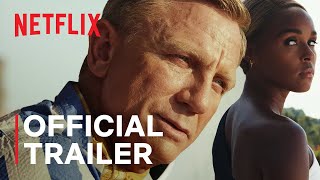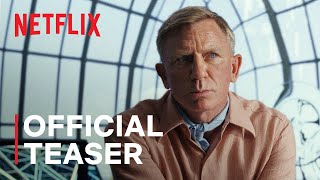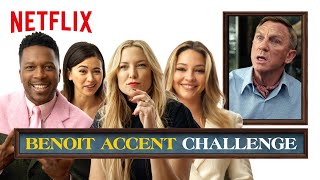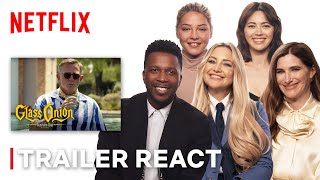 Genres
Comedy, Crime, Drama, Mystery & Thriller
Popular movies coming soon