Nope streaming: where to watch online?
Currently you are able to watch "Nope" streaming on Amazon Prime Video. It is also possible to buy "Nope" on Apple TV, Google Play Movies, YouTube, Vudu, Microsoft Store, Redbox, AMC on Demand, DIRECTV, Amazon Video as download or rent it on Apple TV, Amazon Video, Google Play Movies, YouTube, Vudu, Microsoft Store, Redbox, DIRECTV, Spectrum On Demand online.
Synopsis
Nope is written and directed by the acclaimed comedian and filmmaker, Jordan Peele. The director is known for his chilling horror movies Us and Get Out. The latter landed Peele the Academy Award for Best Original Screenplay and was nominated for Best Motion Picture of the Year. Nope follows a few residents in a remote area of inland California as they witness something spectacular and terrifying.
What To Know
Peele wrote the script with Daniel Kaluuya in mind to play James Haywood. Nope marks the pair's second collaboration following 2017's hugely successful Get Out. Also starring in the film are Keke Palmer as Jill Haywood, Steven Yeun as Brian, Michael Wincott as Craig, and Barbie Ferreira as Danielle. After the success of Jordan Peele's Get Out in 2017, Hollywood took note of the director's ability to create powerful genre films. Universal Pictures was particularly interested in Peele's gifts and signed him to a five-year deal, making way for more diversity and black filmmaking in the industry. NOPE was released in theaters on July 22, 2022.
Production: Timeline, news & updates
October 2019: Universal Pictures announces a five-year partnership with Jordan Peele on original, auteur driven genre movies following the success of Get Out. (Source: Deadline Hollywood)
November 9, 2020: Universal gives a release date of July 22, 2022 for an untitled movie written and directed by Jordan Peele. (Source: Hollywood Reporter)
February 2021: Keke Palmer and Daniel Kaluuya join the cast. Jesse Plemons turns down a role in the movie in order to star in Killers of the Flower Moon. (Source: Deadline Hollywood)
February 13, 2022: After a poster for Nope is released, a teaser trailer airs during a Super Bowl LVI commercial break featuring the song "Fingertips" by Stevie Wonder. The trailer is praised for creating an atmosphere of suspense and excitement without revealing plot details. (Source: The Verge)
March 2, 2022: A second film poster is released of a horse in the air, leading fans and critics to speculate the film deals with extraterrestrial life. (Source: IGN)
June 9, 2022: A final trailer for Nope is released online, giving audiences substantially more plot info. We learn that the characters played by Daniel Kaluuya and Keke Palmer lost their father in mysterious circumstances and the answer to his untimely demise may be hovering above them. The trailer confirms that the movie is indeed an extraterrestrial horror. (Source: YouTube)
July 12, 2022: A Nope VR experience is made available as part of the run-up to the films release. Nope World allows viewers to experience aspects of the set and play minigames set in the world of the film. (Source: Collider)
July 12, 2022: Daniel Kaaluya and designer Jide Osifeso collaborate on a new fashion line inspired by Nope. The collection includes hats, t-shirts and sweatshirts emblazoned with the title Nope, stills from the film, and the question 'What is a bad miracle?'(Source: Collider)
July 22, 2022: NOPE was released in theaters. (Source: Deadline)
Videos: Trailers, Teasers, Featurettes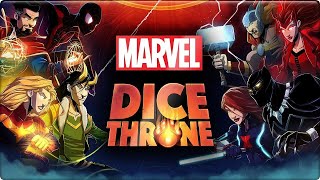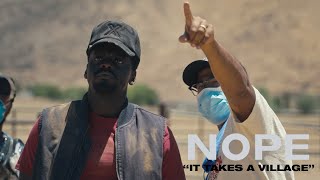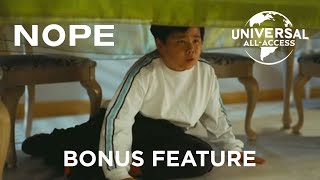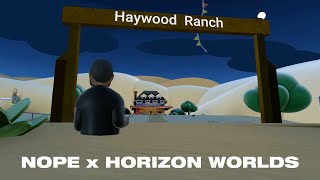 Genres
Horror, Mystery & Thriller, Science-Fiction, Fantasy