Coming soon
November 4, 2022
11 weeks left
Synopsis
Amsterdam is an upcoming comedy crime drama tells the story of three friends, a doctor, a nurse and an attorney who are witness to a murder. Set in the 1930s this period piece sees the trio becoming suspects before getting mixed up in one of the largest crime capers of early 20th-century America. Between the secret intrigue and the high-stakes criminal plot, the loyalty of three friends faces a shocking and mysterious challenge.
What to know
Five-time Oscar nominated director and screenwriter David O. Russell returns for his first film since 2015. Bringing together a star-studded ensemble cast Amsterdam centres around three friends played by Christian Bale, Margot Robbie and John David Washington. Joining them are Robert De Niro, Rami Malek, Zoe Saldana, Mike Myers, Timothy Olyphant, Michael Shannon, Anya Taylor-Joy as well as performances from Chris Rock and Taylor Swift. Three-time Academy Award winning cinematographer Emmanuel Lubezki has also been confirmed as Amsterdam gears up for the critics.
Where to stream
Amsterdam is set to be released theatrically on November 4th 2022. While nothing is confirmed, expect it to be available for streaming within the months following its cinematic release.
Production: Timeline, news & updates
January 16, 2020: Reports confirm that David O. Russell and Christian Bale are teaming up again for an as yet unnamed movie through New Regency.(Source: Deadline)
February 11, 2020: Margot Robbie is confirmed to have joined the project.(Source: Deadline)
February 12, 2020: Michael B. Jordan joins the cast and it is revealed that Jennifer Lawrence and Jamie Foxx were both originally considered for leading roles. Michael Shannon, Mike Myers and Robert De Niro are rumoured to be collaborators on the still unnamed project.(Source: Collider)
March 3, 2020:Emmanuel Lubezki is confirmed as the cinematographer on the film.(Source: Indiewire)
October 10, 2020:John David Washington is confirmed to have replaced Michael B. Jordan in a leading role. Due to COVID-19 scheduling conflicts Jordan had to leave the project.(Source: The Hollywood Reporter)
January 14, 2021: Filming begins in California and more cast members are confirmed including: Robert De Niro, Chris Rock, Mike Myers, Timothy Olyphant, Anya Taylor-Joy, Michael Shannon, Andrea Riseborough, Matthias Schoenaerts, Alessandro Nivola.(Source: Deadline)
June 1, 2021: Taylor Swift is confirmed to be making an appearance. (Source: Hollywood Reporter)
April 27, 2022: After attendees at CinemaCon were given a first look at the film, the title was confirmed to be 'Amsterdam' and the first image of the three main characters in costume was released. The release date was also confirmed to be 4th November 2022. (Source: Indiewire)
July 6, 2022: Amsterdam's trailer is released online. The clip is a fast-paced glimpse into the movie's intricate plot, which includes a dead body in a casket that Christian Bale and John David Washington's characters seem to be responsible for. (Source: YouTube)
Videos: Trailers, Teasers, Featurettes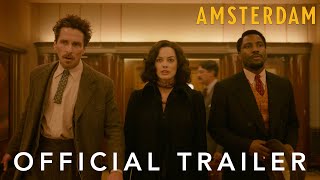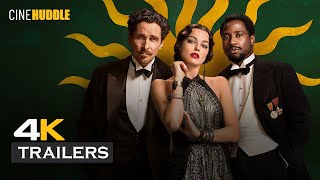 ---
Genres
Mystery & Thriller
,

Drama
,

History
Amsterdam will be available to stream from November 4, 2022. The streaming service that will include Amsterdam in its media library is still unknown, but you can stay updated by tracking this movie on JustWatch.