Don't Worry Darling
(2022)
Synopsis
Cracks in a couple's marriage start to appear as they live in an experimental utopian community in the 1950s. The young and unhappy housewife begins to notice disturbing occurrences around her, finding them harder and harder to ignore. And her husband's secrets begin to emerge in their home and the company he works for. Don't Worry Darling is Olivia Wilde's second film as a director, following her critically acclaimed debut, Booksmart. The film stars Florence Pugh as the young housewife and Harry Styles as her husband. Chris Pine takes on the role of the charismatic leader of a cult group.
What to Know
The film stars Florence Pugh as Alice, Harry Styles as Jack, Chris Pine as Frank, and Olivia Wilde as Mary. Also acting in the film are Gemma Chan, KiKi Layne, Nick Kroll, Dita Von Teese, and Kate Burlant. Don't Worry Darling marks Harry Styles' third appearance on the big screen following the singer's roles 2017's Dunkirk and 2021's Eternals. The film has been hotly anticipated since the project was picked up by New Line Cinema following an aggressive bidding war to work with Wilde and her team. According to Wilde, film draws inspiration from Inception, The Truman Show, and The Matrix, and is based on an idea by Dick Van Dyke's grandsons, Carey and Shane Van Dyke.
Where can I stream Don't Worry Darling?
Don't Worry Darling comes to theaters on September 23, 2022. It will be available to stream on HBO Max 45 days following its release date.
Production: Timeline, news & updates
August 2019: Studios enter a bidding war to acquire the next Olivia Wilde project based on a script that appeared on the Black List. New Line Cinema is the winner of the deal, beating out 17 other offers. (Source: Deadline Hollywood)
September 2020: Shia Labeouf was originally set to star in the film but was allegedly fired after poor behavior and clashing with the cast and crew. (Source: Variety)
October 2020: Dakota Johnson is replaced by KiKi Layne after a scheduling conflict with The Lost Daughter, a film by Maggie Gyllenhaal. (Source: The Hollywood Reporter)
April 2022: At Cinemacon 2022, Olivia Wilde, the film's director, reveals that the film was inspired by Inception, The Matrix and The Truman Show. (Source: Variety)
Videos: Trailers, Teasers, Featurettes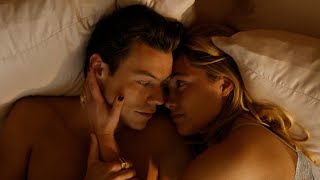 ---
Genres
Mystery & Thriller
,

Horror
,

Crime
,

Drama
Don't Worry Darling streaming: where to watch online?
Don't Worry Darling will be available to stream from . The streaming service that will include Don't Worry Darling in its media library is still unknown, but you can stay updated by tracking this movie on JustWatch.