Synopsis
For decades, Harvey Weinstein was an untouchable fixture in the Hollywood landscape. A rockstar producer, he was known for turning actors into movie stars and amassed the industry's top awards. Rumors of his predatory ways with young women followed him, but an intimidating persona and culture of silence protected him. It seemed as though nothing would ever be done about his abuse until New York Times journalists Jodi Kantor and Megan Twohey unraveled the sinister history of one of the world's most infamous sexual predators.
What to know
She Said is an upcoming biographical drama directed by Maria Schrader and written by Rebecca Lenkiwicz. The film is produced by Brad Pitt, Dede Gardner and Jeremy Kleiner. She Said is based on the book of the same name by New York Times journalists Jodi Kantor and Megan Twohey.
She said follows the early days of the #MeToo movement that saw allegations of abuse rise against Harvey Weinstein. Ms. Kantor and Ms. Twhoey worked to uncover the years of sexual predation done by Weinstein and give a voice to the women he abused in a shocking article.
Where can I stream She said?
She Said will be released on November 25, 2022. Check back with JustWatch to find out where and when it will be available to stream.
Production: Timeline, news & updates
October 15, 2017: Jodi Kantor and Megan Twohey publish a bombshell article accusing Harvey Weinstein of sexual harassment and abuse. The women he targeted were actors, assistants, and other employees. (Source: The New York Times)
March 11, 2020: The allegations were a tipping point for the #MeToo movement and led to Weinstein's 23-year prison sentence. (Source: The New York Times)
June 7, 2021: Carey Mulligan and Zoe Kazan join the cast of She Said. (Source: Deadline)
October 7, 2021: Maria Shrader will direct the film. (Source: The Hollywood Reporter)
July 14, 2022: The first trailer for the movie is released, showing the New York Times reporters working tirelessly at the story and being met with resistance and fear. (Source: YouTube)
September 26, 2022: She Said had a world premiere at the New York Film Festival. (Source: The Playlist)
November 5, 2022: A new featurette was released that details the making-of and behind-the-scenes footage of the film. It suggests that the movie is not simply just about the #MeToo movement itself as much as it is about the breaking of the story. (Source: Collider)
Videos: Trailers, Teasers, Featurettes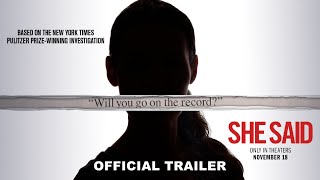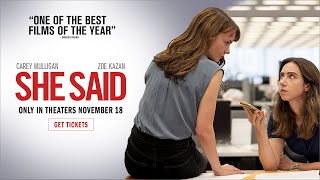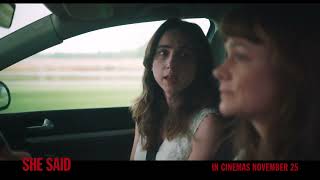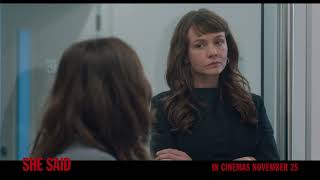 She Said streaming: where to watch online?
You can rent "She Said" on AMC on Demand online.