Thor: Love and Thunder
(2022)
Synopsis
After spending years apart, star-crossed lovers Thor and Jane Foster are reunited once again. With the life-changing events of Avengers: Endgame behind them, will their turbulent romance survive another cosmic adventure?
Thor: Love and Thunder is a direct sequel to Thor: Ragnarok. It adapts elements of the Mighty Thor comic book run by Jason Aaron and marks the return of director Taika Waititi. The movie belongs to Phase Four of the Marvel Cinematic Universe (MCU).
Cast
The movie marks the return of Chris Hemsworth as Thor and Natalie Portman as Jane Foster, showing the next chapter in the on-again, off-again romance that first began in Thor (2011). In addition to its leading duo, Thor: Love and Thunder features several fan-favorite Marvel characters. This includes Chris Pratt as Peter Quill, Tessa Thompson as Valkyrie, Dave Bautista as Drax the Destroyer and Karen Gillan as Nebula. Christian Bale makes his Marvel debut as Gorr the God Butcher.
Award-winning director Taika Waititi returns to the franchise for the second time, having previously helmed Thor: Ragnarok in 2017.
Where can I stream Thor: Love and Thunder?
The upcoming Marvel movie doesn't have a streaming release date yet. Thor: Love and Thunder will be released in theaters on July 8, 2022 and available to stream on Disney+ once its theatrical window ends.
Production: Timeline, news & updates
July 16, 2019: Taika Waititi signs on to write and direct a fourth Thor movie, which will be a direct follow-up to Thor: Ragnarok. (Source: HollywoodReporter)
July 21, 2019: At San Diego Comic-Con 2019, Marvel's new projects are officially announced. Among the list of upcoming Marvel movies is the fourth Thor movie – titled Thor: Love and Thunder. Natalie Portman, Chris Hemsworth and Tess Thompson are all confirmed to reprise their roles for the film. Director Taika Waititi reveals that Jane Foster will become the Mighty Thor, goddess of Thunder. (Source: Marvel.com)
July 26, 2019: The movie is scheduled to film in Australia, starting in March 2020.(Source: Collider)
March 6, 2020: During an interview with Entertainment Tonight, Tessa Thompson reveals that Christian Bale will be playing the movie's villain. (Source: ETOnline)
April 3, 2020: Due to the global pandemic, The Walt Disney Company reschedule the release date for several upcoming Disney movies – including Thor: Love and Thunder. The film's theatrical release is changed to February 11, 2022.(Source: thewaltdisneycompany.com)
January 10, 2021: Chris Pratt lands in Australia to start filming for Thor: Love and Thunder. The actor plays Guardians of the Galaxy member Peter Quill in the MCU. (Source: DailyMail)
January 26, 2021: Chris Hemsworth confirms the Marvel movie's first day of shooting via Instagram. (Source: Instagram)
March 9, 2021: It is revealed that Thor: Love and Thunder will feature several members of the Guardians of the Galaxy. Vin Diesel, who voices Groot, explains that "Thor will incorporate some of the Guardians of the Galaxy." (Source: Comicbook.com)
March 29, 2021: Russell Crowe joins the cast in an unknown role. (Source: Deadline)
October 18, 2021: Thor: Love and Thunder is given a new release date: July 8, 2022 (Source: Variety)
April 16, 2022: The first trailer is released. Set to Guns N' Roses' "Sweet Child O' Mine," the long-awaited trailer shows the God of Thunder traveling alongside Peter Quill and the Guardians of the Galaxy. Thor shows his happiness to be free of his responsibilities as a superhero. Quill offers him a few words of wisdom: "If you ever feel lost, just look into the eyes of the people you love." (Source: YouTube)
Videos: Trailers, Teasers, Featurettes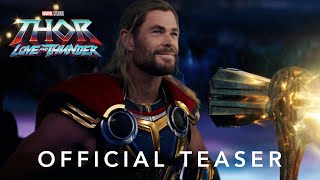 ---
Genres
Fantasy
,

Action & Adventure
,

Music & Musical
,

Romance
,

Science-Fiction
Thor: Love and Thunder streaming: where to watch online?
Thor: Love and Thunder will be available to stream from . The streaming service that will include Thor: Love and Thunder in its media library is still unknown, but you can stay updated by tracking this movie on JustWatch.