When You Finish Saving the World
(2022)
Synopsis
Mother and son relationships are rarely simple. For Evelyn, her son isn't her only focus in life. She has dedicated herself to supporting those who have fallen on hard times and can be most often found at the local shelter. Her internet-famous son, a star musician with countless followers lives in a totally different world. No matter how they try, the pair simply can't relate to each other. As Ziggy begins the romantic pursuit of a fervently political student at his high school, his mother is busy parenting a different young teenager at the shelter. Even as the two move in completely different circles, circumstances conspire to show them just how alike they really are.
What to know
When You Finish Saving the World is a comedy-drama movie based on the audiobook drama of the same name. Author and star of the audiobook, Jesse Eisenberg, returns to make his feature directorial debut. Known for a selection of high-profile acting roles, Eisenberg has worked as both a podcaster and playwright. When You Finish Saving the World features Benjamin Loeb as a cinematographer. Emile Mosseri provides the music after an Academy Award nomination for his compositions for Minari.
The team behind the camera is matched by the on-screen magic of Julianne Moore and Finn Wolfhard who play the main characters. Wolfhard assumes his role after having voiced the same character in the original audiobook. Julianne Moore stars as Evelyn Katz, a highly-strung mother of teen rock sensation Ziggy. Played by Wolfhard, Ziggy has a loving base of fans online who are following his musical career. There is space in the cast for Alisha Boe, Jay O. Sanders, Billy Bryk, and Eleonore Hendricks. When You Finish Saving The World was released in cinemas on 20th January 2023.
Production: Timeline, news & updates
April 9, 2020: Finn Wolfhard joined Jesse Eisenberg to feature in his new audio drama. The film adaptation was already confirmed to be in the works with Wolfhard starring again and Julianne Moore joining the acting cast.(Source: Deadline)
August 5, 2020: Emma Stone and Dave McCary joined as producers bringing along production company A24 with whom they struck a first-look deal. (Source: Deadline)
January 20, 2022: The movie had a premiere at the Sundance Film Festival. (Source: Collider)
November 29, 2022: The first trailer for the movie was released online showing the wayward relationship between mother and son. It confirms the movie will be releasing on January 20, 2023. (Source: IndieWire)
January 20, 2023: When You Finish Saving The World was released in cinemas. (Source: Deadline)
Videos: Trailers, Teasers, Featurettes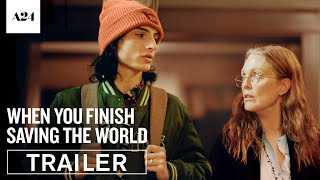 When You Finish Saving the World streaming: where to watch online?
You are able to buy "When You Finish Saving the World" on Apple iTunes, Amazon Video, Google Play Movies, YouTube, Vudu, Microsoft Store, Redbox, DIRECTV as download.