Coming soon
September 23, 2022
11 weeks left
Synopsis
A closer look at Marilyn Monroe's meteoric rise to fame and her sudden death that would shock the world.
What to know
Blonde is a biographical drama written and directed by Andrew Dominik and produced by Plan B Entertainment. The movie is based on a best-selling novel of the same name by famed American writer Joyce Carol Oates.
Norma Jean Baker, better known to the world as Marilyn Monroe, was an actress and central figure in the Golden Age of Hollywood. Her life and legacy has been the subject matter of many books and movies as she was considered to be one of the greatest female icon of the 20th century.
The movie explores Monroe's life as "an orphan lost in the woods of Hollywood" according to director Andrew Dominik. The Australian filmmaker is best known for his work on The Assassination of Jesse James by the Coward Robert Ford and Killing Them Softly, two movies starring Brad Pitt. The pair's professional relationship continues on this movie as Plan B Entertainment – a production company owned by Pitt – is responsible for the project.
Starring as Marilyn Monroe is Ana de Armas. Other members of the cast include Adrien Brody as Arthur Miller, Bobby Cannavale as Joe DiMaggio, and Sarah Paxton as Miss Flynn.
Where can I stream Blonde?
Blonde will be available to stream on Netflix sometime in 2022. Check back with JustWatch to find out when the film will be released.
Production: Timeline, news & updates
April 22, 2014: Jessica Chastain is hired to play Marilyn Monroe in Blonde. (Source: The Wrap)
March 4, 2019: After years of production delays due to financing, Chastain is replaced by Ana de Armas in the lead role. (Source: Collider )
October 24, 2019: De Armas works closely with a dialect coach to mask her Cuban accent and master the cadences of Marilyn Monroe's voice. (Source: C Magazine)
February 18, 2020: Jamie Lee Curtis, a former colleague of de Armas' in 2019's Knives Out, witnessed some of the Cuban actress' performance and was deeply impressed, saying "Ana was completely gone. She was Marilyn." (Source: Indie Wire)
June 16, 2022: A teaser trailer for Blonde is released online. Viewers see a distressed Marilyn Monroe played by Ana de Armas in a makeup chair. A powerful shot of the actress trying to make her way through a throng of people clamoring to get close to her vividly recreates the magnetism Monroe exuded. (Source: YouTube)
June 8, 2022: Four Netflix movies will be featured at the Venice Film Festival, with Blonde leading the pack. This is the highest number of films to be released at a film festival by the streaming giant. (Source: Variety)
Videos: Trailers, Teasers, Featurettes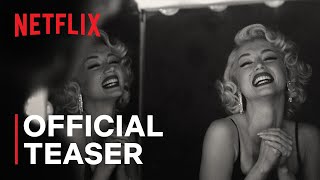 ---
Genres
Drama
,

Documentary
,

Mystery & Thriller
,

Romance
,

Kids & Family
Blonde streaming: where to watch online?
Blonde will be available to stream on Netflix from September 23, 2022.