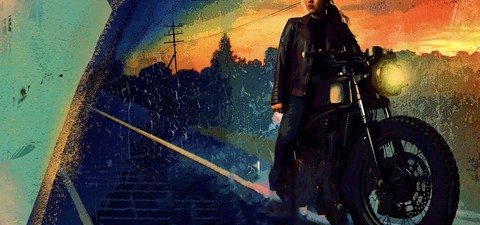 Coming soon
January 10, 2024
4 weeks left
Streaming release date (United Kingdom)
Echo Season 1 will be available to watch on Disney Plus from January 10, 2024.
Synopsis
Maya must find a way to reconcile with her past and reconnection with herself, her family, and her community
After the chaos she experienced in New York City, Maya Lopez (aka Echo) returns hometown to reassess. But if she is to truly heal, she'll have to take a look at her past, and open herself back up to friendship, while reconnecting with her Native American roots.
What to know
Alaqua Cox brings Echo, the daring deaf Native American superhero from Marvel comics, to the screen in Disney's spin-off series
Echo Season 1 is the first season of the upcoming American superhero-origin series produced by Marvel Studios for Disney+. The series is based on the Marvel comics character of the same name, and resides within the Marvel Cinematic Universe (MCU). Echo was originally introduced into the MCU in the third episode of the Hawkeye series, 'Echoes'. Echo is a Hawkeye spin-off series that focuses on this unique character from a Native American background and was rendered deaf as a child, thus developing an enhanced ability to lipread and mimic those around her. The series is created by Marion Dayre (Better Call Saul), while Catriona McKenzie and Sydney Freeland direct.
The leading role in the series is played by Alaqua Cox, who portrays Maya Lopez (aka Echo), the superhero at the heart of the series. Echo is a character who originally appears in the Marvel comics as Daredevil villain Kingpin's adoptive daughter. Zahn McClarnon plays her biological father, William Lopez, in the series. Vincent D'Onofrio joins as her adoptive father, Kingpin, and Charlie Cox appears as Daredevil. Chaske Spencer, Tantoo Cardinal Devery Jacobs, Cody Lightning, Graham and Greene also feature in season 1 of the series.
Production News
December 3, 2020

Alaqua Cox is cast as Echo in Marvel's Hawkeye series. (Source: Variety)

March 22, 2021

Rumours begin that Marvel Studios is developing an Echo spin-off series. (Source: Variety)

November 12, 2021

On Disney+ Day, it is confirmed that the spin-off series was in development. (Source: Deadline)

May 17, 2022

A first image for Echo is released by Marvel, confirming Alaqua Cox will star in her role as Maya Lopez. Sydney Freeland and Catriona McKenzie are confirmed as the series' directors. (Source: Marvel)

July 7, 2022

Daredevil stars Charlie Cox and Vincent D'Onofrio confirm they will appear in the series as Kingpin and Daredevil, respectively. (Source: The Hollywood Reporter)

August 26, 2022

Alaqua Cox confirms that filming for season 1 has wrapped. (Source: ComicBook)

February 16, 2023

Echo's release date is pushed back until December 2023 or January 2024, as Disney modify their release strategy. (Source: Collider)

September 2, 2023

Marvel/Disney officially delay the first season of Echo's release date on Disney+ to January 2024, due to the ongoing WGA and SAG-AFTRA strikes. (Source: The Hollywood Reporter)

November 3, 2023

The first trailer for Echo is released, revealing the series to be much grittier and violent than expected. The series received a TV-MA, meaning the series is only suitable for mature audiences. Echo Season 1 will be released on January 10, 2024. (Source: Deadline)
Genres
Action & Adventure, Drama
People who liked Echo also liked
Popular upcoming TV shows
Action & Adventure TV shows coming soon