John Wick: Chapter 4
(2023)
Synopsis
Having survived an attack of the High Table, the underground council of high-level crime bosses, John Wick returns with a thirst for revenge. Excommunicated from the underworld and last seen having been shot by Winston, the manager of the Continental Hotel, safe haven for assassins, the fourth instalment will see John Wick back and baying for blood. With the help of the Bowery King seemingly confirmed, the two will join forces to exercise their shared grievances with the High Table. This time, John Wick seeks not just to survive the onslaught of attack but fight back in the only way highly-skilled assassins know how.
What to know
John Wick Chapter 4 is an upcoming neo-noir action thriller directed by Chad Stahelski. Action movie icon Keanu Reeves once again returns to the franchise in the titular role. He is joined by Laurence Fishburne, Ian McShane and Lance Reddick – all of whom reprise their roles in the John Wick franchise. The cast also includes Rina Sawayama, Donnie Yen, Sharmier Anderson, Bill Skarsgard, Hiroyuki Sanada, Scott Adkins and Clancy Brown.
Where to stream
John Wick Chapter 4 is set for a March 24, 2023 release date in cinemas. It is likely to be released on streaming platforms in the months following its release in theatres.
Production: Timeline, news & updates
May 20, 2019:John Wick Chapter 4 was confirmed as the next sequel via a text message to fans who had signed up to receive updates since the trailer drop of Chapter 3. The original text put May 21, 2021 as the release date. (Source: Collider)
August 6, 2020:Lionsgate confirmed that John Wick Chapters 4 and 5 would shoot back-to-back, that the scheduled release date for Chapter 4 would be delayed by a year and noted also that they would be working on a spin-off TV series about The Continental.(Source: Collider)
March 23, 2021:The plan for back-to-back filming of the next two instalments in the franchise was dropped by Lionsgate after COVID-19 delays set filming back. Locations for filming of Chapter 4 were revealed as Paris and Berlin. Series creator Derek Kolstad confirmed he would not return to write the script, passing on the duties to Mike Finch. Source: Collider)
May 27, 2021:British-Japanese pop sensation Rina Sawayama was confirmed to be making her feature debut in the film, acting alongside Keanu Reeves in an undisclosed role.Source: Deadline)
June 10, 2021:BLaurence Fishburne confirmed he would reprising his role as the Bowery King and was set to join the cast that included Shamier Anderson, Donnie Yen and Bill Skarsgard. Source: Collider)
October 27, 2021:Production for John Wick Chapter 4 was completed with Keanu Reeves gifting the stunt team a set of personalised, individually engraved watches to mark the occasion. Source: IndieWire)
July 15, 2021:Ian McShane joined Lance Reddick and Laurence Fishburne in announcing his return to the cast of John Wick Chapter 4, all reprising their previous roles in the franchise. (Source: Deadline)
December 22, 2021:The release date of the film was confirmed in short video announcement released through the Lionsgate YouTube channel. March 24, 2023 was set as the worldwide release date.(Source: YouTube)
April 29, 2022:The first footage from John Wick Chapter 4 was released as a trailer at CinemaCon 2022 to rapturous applause and excitement.(Source: SMovieWeb)
July 21, 2022:The first officially released image from John Wick Chapter 4 comes via the twitter page of the movie. It shows John Wick seemingly pensive and in prayer kneeling around lit candles in his trademark black suit. (Source: Variety)
July 23, 2022:The first teaser for the film is released showing John Wick in training to battle his most lethal opponents yet. (Source: E! News)
August 10, 2022:Building anticipation for the release of the film, director, Chad Stahelski, teased information about the fight scene between Keanu Reeves and Donnie Yen. (Source: ScreenRant)
November 10, 2022:The first official full-length trailer for the film is released showcasing the global scale of the action in this fourth outing for John Wick. (Source: The Playlist)
Videos: Trailers, Teasers, Featurettes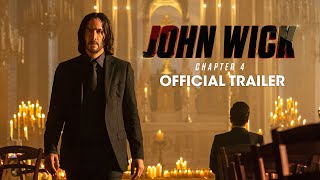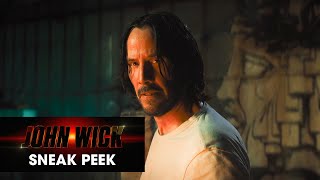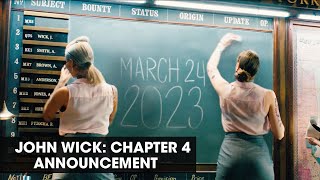 ---
Genres
Action & Adventure
,

Mystery & Thriller
,

Crime
,

Horror
John Wick: Chapter 4 streaming: where to watch online?
We try to add new providers constantly but we couldn't find an offer for "John Wick: Chapter 4" online. Please come back again soon to check if there's something new.