Synopsis
Andor follows the titular rebel spy during the formative years of the Rebel Alliance that would ultimately bring down the Empire decades later. As the rebellion is quietly forming, Cassian Andor is at the beginning of a journey that turns him from a selfish thief to a selfless revolutionary fighting at a desperate time.
What to know
Andor is a science fiction TV show produced by LucasFilm. It takes place within the canonical Star Wars universe and is set five years before the events of Rogue One: A Star Wars Story. The Disney+ TV show's titular character – Cassian Andor – was a central character in Rogue One: A Star Wars Story. He is once again played by Diego Luna, who reprises his role as the rebel spy. Tony Gilroy, who co-wrote the script with Chris Weitz, also returns behind the scenes.
Stellan Skarsgard, Adria Arjona, Fiona Shaw, Denise Gough, Kyle Soller, and Genevieve O'Reilly join Diego Luna as the main cast of Andor. O-Reilly plays the iconic Star Wars character Mon Mothma, a former Republic senator and co-founder of the Rebel Alliance. Andor was released on Disney+ on September 21, 2022.
Production: Timeline, news & updates
February 2018: Bob Iger reveals that a spy thriller about Cassian Andor will be released as a prequel to the 2016 film, Rogue One. Production is expected to begin after Diego Luna, star of the Disney+ series, finishes up filming Narcos. (Source: Variety)
November 2020: Filming begins in England at Pinewood Studios. The series is filmed under the working title "Pilgrim." (Source: ComingSoon.net)
July 2019: Rick Famuyiwa, who directed the first Star Wars series, The Mandalorian, is hired as a director for Andor. (Source: DiscussingFilm)
February 3, 2022 Stellan Skarsgard confirms that Andor will have a second season that will begin filming in fall 2022. (Source: Collider)
May 26, 2022 The first trailer for Andor is released online. The trailer was revealed at Star Wars Celebration, along with a new poster for the show. (Source: Polygon)
July 4, 2022 Show creator Tony Gilroy confirmed that Andor Season 1 will span a single year in the Star Wars world across 12 episodes. The following season will span the remaining four years that lead up to Rogue One: A Star Wars Story. (Source: Empire)
August 1, 2022 The first official trailer for Andor is released. Alongside the first look at the show is the news that the release date has been pushed back and that the show will have a three-episode premiere on September 21, 2022.(Source: YouTube)
August 3, 2022 Images from the set are released showing the distinct types of resistance that Genevieve O'Reilly and Diego Luna's characters are mounting. (Source: Collider)
August 17, 2022 A still image gives a first-look at a new character in the show played by Kathryn Hunter. Hunter will be playing Eedy Karn, the mother of the main villain Syril Karn. (Source: Collider)
August 24, 2022: In a new clip, Diego Luna and Stellan Skarsgard are seen trading lines about how vulnerable the Empire is. Luna's character Cassian Andor is also revealed to have a dark past that the show will dig into. (Source: ScreenRant)
August 24, 2022: Kyle Soller and Denise Gough are both playing villains desperate to catch Cassian Andor. In an interview they reveal the motivations of their characters, citing them both as power-hungry and ambitious. (Source: ScreenRant)
August 24, 2022: Showrunner Tony Gilroy suggests that the final few episodes of Andor Season 2 take place five days before the beginning of Rogue One. (Source: The Playlist)
August 31, 2022: A new image with the cast and characters of Andor is released. The Rebellion begins September 21st. (Source: Collider)
September 10, 2022 : A final trailer for Andor is released at Disney's D23. A proposal is given to Andor, played by Diego Luna, by Luthen Rael in the clip: "You'll ultimately die fighting these bastards," Rael says. "Wouldn't you rather give it all at once for something real?" (Source : Deadline)
September 21, 2022 : Andor was released on Disney+. (Source : Deadline)
September 12, 2022: Three posters featuring Diego Luna's Andor, Stellan Skarsgård's Luthen Rael, and Genevieve O'Reilly's Mon Mothma are released. The images highlight the importance of the three and promise a character driven story. (Source: Collider)
Videos: Trailers, Teasers, Featurettes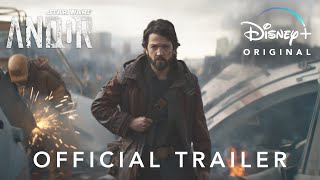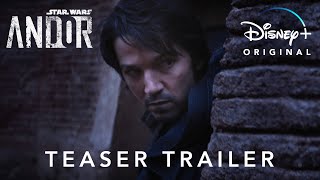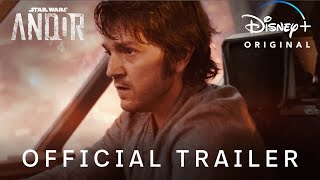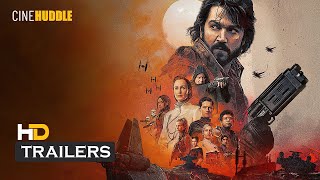 ---
Genres
Science-Fiction
,

Action & Adventure
,

War & Military
,

Mystery & Thriller
,

Drama
Star Wars: Andor - watch online: streaming, buy or rent
Currently you are able to watch "Star Wars: Andor" streaming on Disney Plus, Hulu.
People who liked Star Wars: Andor also liked