Sharper streaming: where to watch online?
Currently you are able to watch "Sharper" streaming on Apple TV Plus.
Synopsis
Sharper is a comedy thriller by the award-winning filmmaker Benjamin Caron. Produced by A24 and distributed by Apple Studios, Sharper showcases how naive and weak the wealthiest in society truly is. Set in the cesspit of New York City where the scramble for wealth leaves so many in the gutters, Madeline and Max are out to get rich and then get out. Mixing in the milieu of billionaires, the pair know that the only way to turn a profit from their performed position amongst the elite is to steal from everyone around them. Whether the rich know it or not, the con is very much on.
What to know
Sharper is a thriller drama film produced and distributed by Apple Original Films and A24. Emmy, BAFTA, and Golden Globe award-winning filmmaker Benjamin Caron is the director behind the movie. Having previously worked on television episodes of Andor, Sherlock, and The Crown amongst others, Caron is well-known within the world of the small screen. Sharper represents his first official full-length feature effort. The screenplay is written by Brian Gatewood and Alessandro Tanaka who both also serve as producers of the film. Danish cinematographer Charlotte Bruus Christensen handles the camera work after having worked on Molly's Game with Aaron Sorkin and Fences with Denzel Washington.
The celebrated and prolific actress, Julianne Moore, takes one of the two leading roles, portraying Madeline. Alongside her in the role of Max, the enigmatic fraudster, is actor Sebastian Stan. John Lithgow, Briana Middleton, and Justice Smith round out the expanded cast. Sharper was released on Apple TV+ on February 17th, 2023.
Production: Timeline, news & updates
December 14, 2020: The script for Sharper made it onto The Black List 2020 which documents the most exciting un-produced movie scripts of the year. (Source: Vanity Fair)
July 29, 2021: Apple Original Film and A24 are confirmed to be producing Sharper. Sebastian Stan and Julianne Moore are confirmed to star. (Source: Deadline)
September 10, 2021: John Lithgow joins the cast of the film directed by Benjamin Caron. Principal photography was confirmed to have started. (Source: Deadline)
November 3, 2022: A teaser for the movie is released teasing the ensemble cast that includes Justice Smith, Brianna Middleton and Darren Goldstein. (Source: Collider)
January 12, 2023: The first full-length trailer is released showing the thrilling heist in action. (Source: Collider)
February 17, 2023: Sharper was released on Apple TV+. (Source: Apple TV+)
Videos: Trailers, Teasers, Featurettes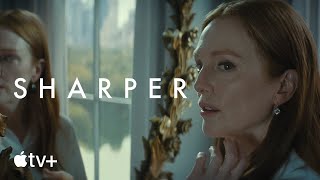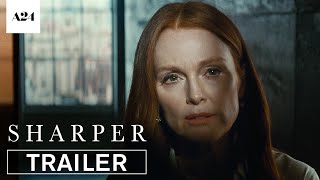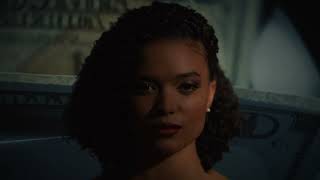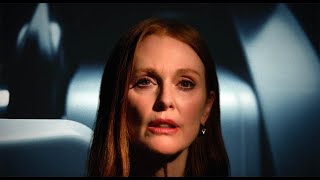 ---
Genres
Crime, Drama, Mystery & Thriller